Heritage Conservancy is reaching out to our friends, members, supporters and volunteers to help find deserving recipients for our 2012 Heritage Partnership Awards!
 
Our Heritage Partnership Awards Program honors and recognizes individuals, organizations, government agencies, community groups and leaders who have made significant contributions in the areas of land conservation, historic preservation, watershed protection, sustainable agriculture, livable communities and the environment at large. The awards bestow a lasting legacy to those who have excelled in the preservation of our natural and historic heritage.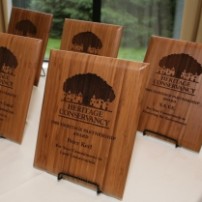 Award Categories: 
– Land Conservation
– Historic Preservation
– Community Leadership/Grassroots Partnership
All nomination forms (see PDF attachments below) must be received by Heritage Conservancy either electronically or by mail no later than April 27, 2012. Email electronic forms to muliano@heritageconservancy.org.
 
Awards will be presented at our Annual Garden Party on Thursday, June 14, 2012.