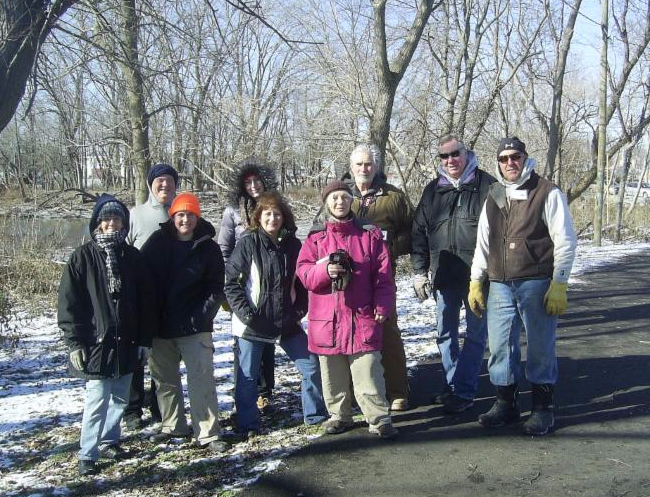 "Life's most persistent and urgent question is, 'What are you doing for others?'" ~Dr. Martin Luther King, Jr.
In honor of the Martin Luther King, Jr. Day of Service, Heritage Conservancy staff joined forces with 35 compassionate volunteers on Monday, January 18th, to clean up and maintain the Bristol Marsh Nature Preserve in historic Bristol Borough, PA.
Bristol Marsh is a unique fresh water tidal marsh that helps to filter water before it enters the connecting Delaware River, and it is home to more than 350 different species of plant and animal life, including several rare species.
A cleanup at Bristol Marsh not only protects wildlife habitat but water quality within the region as well. Since the Bristol Marsh filters the Delaware River, which eventually flows into the Atlantic Ocean, the cleanup makes an impact locally and globally.
"Having a deeper understanding as to why it is a special place made me feel even better for coming out and helping," said Lisa von Deylen, a dedicated volunteer.
By the end of the cleanup, about 35 bags of trash had been collected and removed from the preserve. Volunteers from The Nature Conservancy, US EPA Region 3, Voya Financial, Wildlife Conservation & Game Management, Raising the Bar, Dow Chemical, members of the Bristol Borough EAC, local students from Bristol Borough High School, G.O.A.L., and Boy Scout Troop 316 played an integral part in making the cleanup a success.
As all of these groups gathered together for the same cause, the theme of connecting with each other while making a difference was very apparent.
"It weaves you into the community when you work with others!" said Steve Donohue, another volunteer who supported the Bristol Marsh cleanup.
On a blustery winter day, this feeling of a close-knit community served as a strong motivation for our adventurous attendees. Thank you to all of the environmental stewards who came out to protect this important natural resource!
To view a virtual tour of the Bristol Marsh Nature Preserve, click HERE.