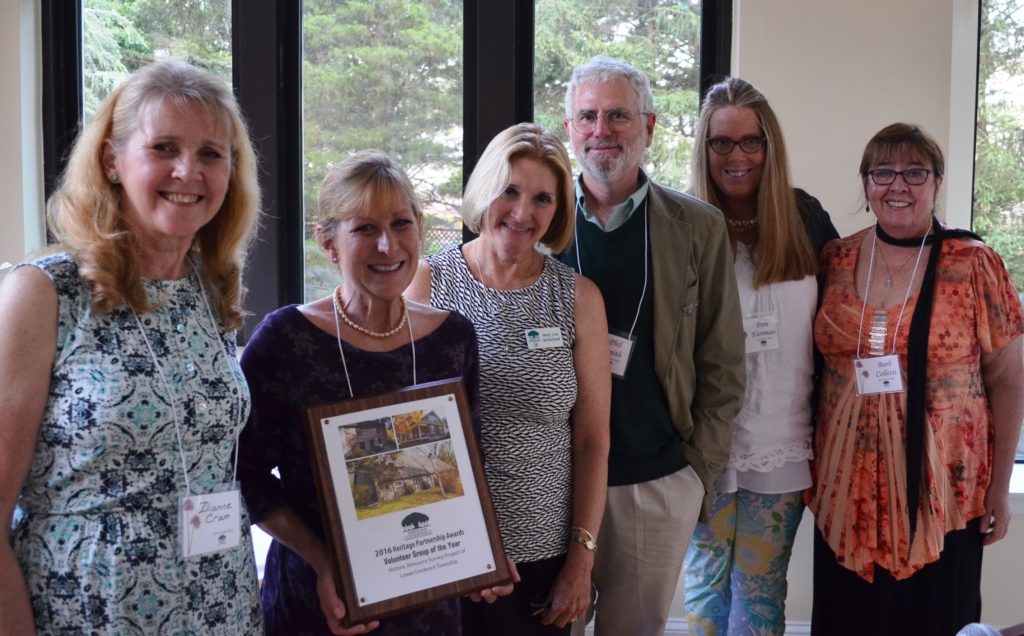 Event also celebrated organization's members and donors
Heritage Conservancy hosted its yearly member appreciation and donor recognition event on the evening of Wednesday, June 8th, at historic Aldie Mansion in Doylestown, PA. The Conservancy welcomed a record-breaking crowd to its annual Garden Party, with over 225 of the organization's valued members, business members, and Board of Directors in attendance.
The celebrated guests were invited to enjoy a lovely cocktail reception outside on the terrace overlooking Aldie Mansion's beautiful gardens and landscaping. For the scheduled part of the evening, the Conservancy presented its Heritage Partnership Awards to individuals and groups who have shown extraordinary commitment to conservation of our natural and historic heritage.
The Community Business Leader of the Year Award was presented to the Deeter family, owners of DeeterUSA, a marketing and communications firm in Doylestown, PA. Linda Deeter is not only a Heritage Conservancy business member and individual member, but she is a volunteer for the organization as well. The Deeters have volunteered to lend their expertise in creating a new marketing plan for Heritage Conservancy, and they've helped the Conservancy update its marketing materials to strengthen its brand image. Linda Deeter also volunteers on the organization's Development and Community Engagement Committee and its Marketing Advisory Panel. The Deeters are truly exemplary business owners, and their dedication to our community rightfully earned them the Community Business Leader of the Year Award.
The Land Conservation Award was given to Monty and Bonita Wernett. In 2012, the Wernetts preserved 29 acres of their 46-acre farm that resides mainly in Richland Township and crosses over into Springfield Township, Bucks County. In 2015, they completed the puzzle and placed an easement on the remaining 17 acres in order to safeguard the entire property. "As much joy as we get when we drive by and see this vast landscape, we wanted other people to enjoy it and have that same feeling generations from now," said Monty Wernett. With its quintessential red barns and beautiful farmland, the community is fortunate that the Wernetts made the decision to protect this viewscape in perpetuity.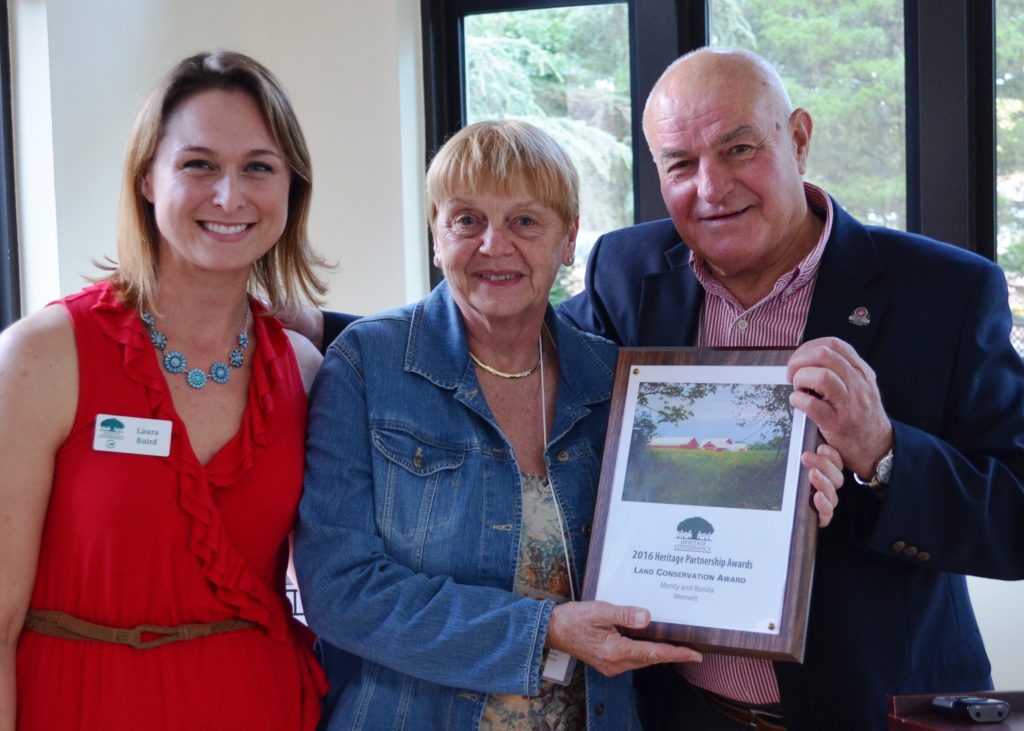 The Historic Preservation Award was given to Les Swartley for the cleanup and maintenance of the Minsi Trail Steel Truss Bridge in Hilltown Township, which is owned by Heritage Conservancy. In his leisurely time, Les Swartley cleans invasive plants and debris from the bridge, and he has also done research about its history and its importance to the local area. Mr. Swartley aptly summarized what the bridge has meant to him: "There are different threads that run throughout our lives. The Steel Bridge at Minsi Trail and Route 113 is the thread in my life." Les played near this bridge as a child, and he did the same with his own children. "My hope is that this bridge continues to give people joy and helps give them awareness of our heritage in the future."
The Volunteer of the Year Award was presented to the Lower Frederick Township Historic Resource Survey Group. This group has logged over 500 hours of volunteer time toward inventorying the buildings in this section of Montgomery County. In all, the group has surveyed 375 historic places. Their work is essential in understanding and protecting the historic heritage of our area.
Heritage Conservancy's Garden Party was filled with compassionate and enthusiastic people who continue to make a significant impact for conservation and the environment through their support.
Jeff Marshall, Heritage Conservancy's President, addressed the group with words of encouragement and appreciation. "You are our advocates and our ambassadors. We need all of you to help tell our story, and our story is very simple: special places won't remain special without a lot of work by a lot of people," he said. "That's why we thank you all for what you do to support our mission."
The Conservancy hopes to welcome another record-breaking crowd at its Garden Party next spring.
Sponsors of the event were: BB&T, Brooks & Barber Tree Management, and Hill Wallack LLP.