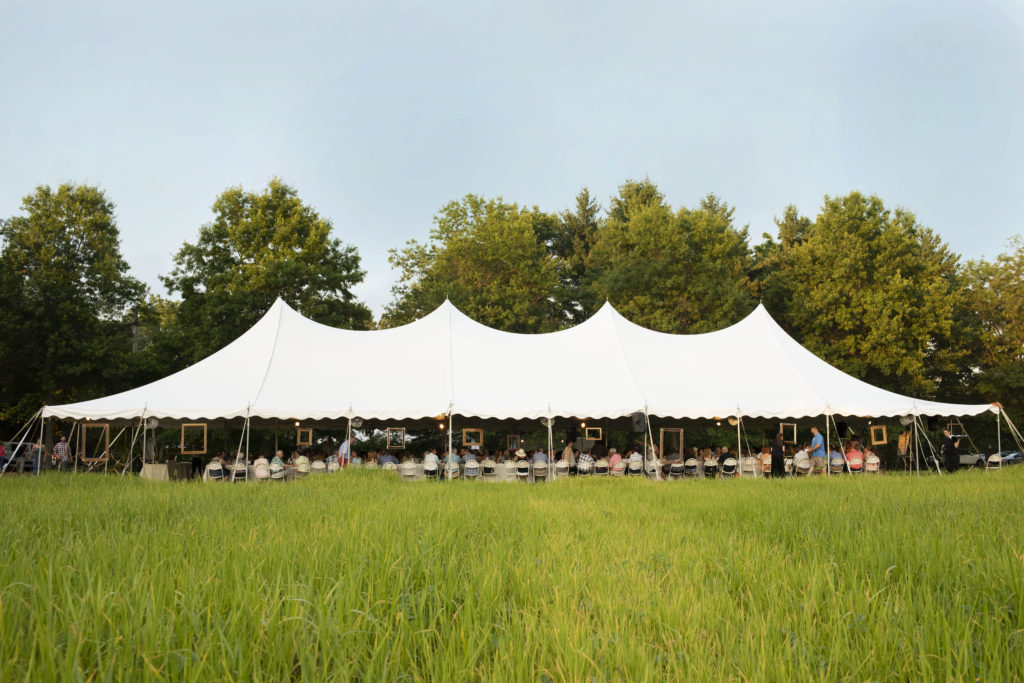 Photo by Robyn Graham Photography
Proceeds benefit land conservation and historic preservation in Bucks County
Heritage Conservancy, an accredited not-for-profit land conservation and historic preservation organization located in Doylestown, PA, held its 10th annual Farm to Table dinner on Saturday, August 4th, at the Conservancy's Russell-Mandel Preserve in Buckingham Township, PA. Over 250 guests helped to raise $70,000 toward the Conservancy's mission of preserving and protecting our natural and historic heritage. That is the largest amount raised at any previous Farm to Table dinner!
The Russell-Mandel Preserve is a 55-acre property that contains agricultural fields, woodlands and a tributary leading to Pidcock Creek. Across the road from the agricultural fields is the remaining property, which contains an early 1800s farmhouse, a cottage, and a barn. In 1990, Robert L. Russell and William Mandel donated their property to Heritage Conservancy. Through this planned gift, the couple deeded their farm to the Conservancy and reserved life rights to enjoy the rest of their days on the property. Bob Russell was a valued member of the Board of Heritage Conservancy for over 18 years. During the same time period, Bill Mandel served on the Board of the Michener Art Museum. Their support of the non-profit community was wide reaching and deep. They spent the rest of their lives giving back to the community they loved, culminating with the gift of this property – with Heritage Conservancy's promise to keep it preserved.
Farm to Table represents Heritage Conservancy's mission in action: by dining on a meal prepared using ingredients sourced from local farms, guests experienced firsthand the importance of protecting our lands.
(Click HERE to view more photos from the event.)
While taking in the beauty of the Russell-Mandel Preserve, guests indulged in delicacies prepared by Jamie Hollander Catering & Events made using ingredients provided by local farms. Hors d'oeuvres followed by a seated dinner were served in this picturesque outdoor setting.
Guests had the opportunity to participate in silent and live auctions for a variety of exciting items donated by local artisans and vendors. A mission appeal during the evening focused on connecting the next generation of environmental stewards with nature. Students in 4th grade at Keystone Elementary School in Bristol, PA, will now have the opportunity to get out on the Delaware River aboard the Steamboat SPLASH floating classroom for environment-based learning. Many of these students have lived just one mile away from the river their entire lives and never had the chance to experience it first-hand. This field trip will help students build an understanding of environmental conservation, public health, historic preservation, and sustainable community development as they travel along the Delaware River.
While addressing the group, Jeffrey Marshall, President of Heritage Conservancy, emphasized the greater significance of what community support means to the Conservancy's mission. "Heritage Conservancy as an organization is a reflection of this community. You appreciate our open spaces and historic places, and you've entrusted us to make sure that those places are protected in perpetuity. Heritage Conservancy exists for you and because of you."
Farm to Table lauds community as it connects people to Heritage Conservancy's mission and our area's natural resources. It takes a community to make conservation happen. The participation of all sponsors, donors, volunteers, and guests in attendance at Farm to Table shows that our community understands the importance of collaborative stewardship and the need to work together to preserve and protect our natural and historic heritage for future generations to enjoy.
Thank you to the following Farm to Table Presenting Sponsors: Fox Rothschild LLP and Zaveta Custom Homes.
If you'd like to play a part in the protection of our natural and historic heritage, become a member of Heritage Conservancy by clicking HERE.