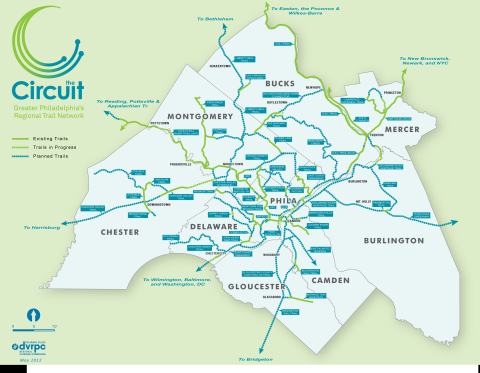 Heritage Conservancy recently received a grant from the William Penn Foundation that will help the Conservancy to identify and secure rights-of-way to complete priority Circuit trails in Bucks County. The grant will connect Heritage Conservancy to many other organizations in the Greater Philadelphia area.
The Circuit is a regional network of trails and connections that provide unprecedented mobility and access to pedestrians and bikers. According to the William Penn Foundation, these trails across the region will help to energize communities on both sides of the Delaware River by connecting more neighborhoods, helping businesses thrive, and providing inexpensive ways for residents to enjoy the outdoors and stay healthy.
Thanks to support from the William Penn Foundation, Heritage Conservancy now has the funding to work on furthering and connecting public trail ways right here in Bucks County, including the East Coast Greenway and the Neshaminy Creek Trail. Heritage Conservancy will work to develop and implement trail-related programs to increase watershed stewardship, and it will create outreach programs that will help to increase the visibility of The Circuit.
"We are excited to have the opportunity to add to The Circuit trail network for the enjoyment of our community and to participate with other organizations in helping to connect our region through beautiful recreation areas," said Jeffrey Marshall, president of Heritage Conservancy.
For more information, contact Kris at kkern@heritageconservancy.org or Jeff at jmarshall@heritageconservancy.org.