All proceeds benefit land conservation in Bucks County!
Heritage Conservancy, the Doylestown, PA based conservation organization, has announced its Third Annual Barley Sheaf Benefit Dinner. The event will take place on Sunday, May 20th at The Inn at Barley Sheaf Farm in New Hope. Now a signature bed and breakfast and gourmet restaurant in Bucks County, the farm was originally constructed in 1740, and sits on over thirty acres of rolling hills and agricultural fields. Guests will enjoy mouthwatering local food while supporting Heritage Conservancy's mission. Since 1958, Heritage Conservancy has been protecting and preserving this region's natural and historic heritage. This special event is courtesy of Christine and Noel Figueroa, owners of The Inn at Barley Sheaf Farm. 100% of proceeds will benefit Heritage Conservancy and its mission.
"Having had the pleasure of serving on Heritage Conservancy's board for over ten years, I am deeply committed to their mission of preserving open space," said Christine Figueroa, owner of The Inn at Barley Sheaf Farm and Heritage Conservancy board member. "Barley Sheaf Farm is a wonderful example of the beautiful land and history that are quintessential to the Bucks County area. It is truly a pleasure to host this annual event."
The event boasts a sophisticated menu prepared by Chef Tom Chuck, graduate of Johnson and Wales University in Providence, RI with a Bachelors Degree in Culinary Arts. Chef Chuck joined the Inn at Barley Sheaf Farm as Executive Chef in 2006. In addition to his famous Short Ribs with Foie Gras and truffle custard, some of his favorite items to prepare are soups and sauces as he feels they add an interesting touch to his dishes.
Guests will enjoy an elegant outdoor setting overlooking over one hundred picturesque acres of Bucks County countryside. Seven delicious and unique hors d'oeuvres, followed by salad, dinner and a seasonal dessert will be served in the gardens and on the conservatory terrace. Tickets are $150. RSVP deadline is Friday, May 11. All proceeds benefit Heritage Conservancy's preservation mission. View full menu online HERE.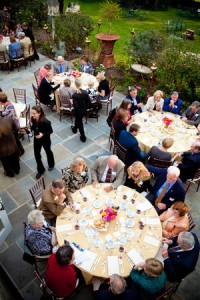 For additional information, please contact Esmé Artz, Heritage Conservancy's Communications Associate at eartz@heritageconservancy.org.
Date:     Sunday, May 20th  
Time:     5:00 – 8:30 PM
Where:   The Inn at Barley Sheaf Farm, 5281 York Road, Holicong, PA 18928
Tickets:  $150
To register: Call (215) 345-7020 x 107 or register online HERE
About Heritage Conservancy
Based out of historic Aldie Mansion in Doylestown, PA and with operations in Port Murray, NJ, Heritage Conservancy is an accredited not-for-profit conservation organization that specializes in open space preservation, planning for sustainable communities, natural resource protection, property stewardship, historic preservation, adaptive reuse of existing structures, wildlife habitat restoration and biodiversity.Since 1958, Heritage Conservancy's mission has been to protect and preserve our natural and historic heritage. Learn more by visiting www.heritageconservancy.org.
###