Proceeds benefit farmland preservation in Bucks County

Heritage Conservancy, the Doylestown, PA based conservation organization, has announced its 4th Annual From Farm to Table Dinner. The event will take place on Saturday, August 4th at Lindsay Farm in Warminster, PA. Sold out three years and counting, this award-winning event offers the unique opportunity for guests to enjoy delicious, locally sourced food while also experiencing the beauty of nature on a preserved property. Proceeds benefit land preservation efforts, including farmland, in Bucks County.
"More and more, people are taking an interest in where their food comes from and how it's grown. Fresh, locally produced food is not only good for our bodies, but good for the economy and the environment," said Robin Folkerts, Heritage Conservancy's Vice President of Development & Community Engagement. "Guests will get to enjoy the bounty of Bucks County with mouthwatering foods that were grown right here in our community."
Heritage Conservancy's From Farm to Table event boasts a farm-fresh meal, prepared by two acclaimed Bucks County chefs, David Zuckerman of Earl's Bucks County and Luke Smithson of Jamie Hollander Gourmet Foods and Catering. Hors d'oeuvres, followed by a buffet-style meal, will be served in a rustic and picturesque outdoor setting at Lindsay Farm. 
Tickets are $75 per person, or $250 for a Locavore Ticket, which includes two tickets and special benefits. For additional information, contact Maggie Uliano at (215) 345-7020 extension 107 or  muliano@heritageconservancy.org.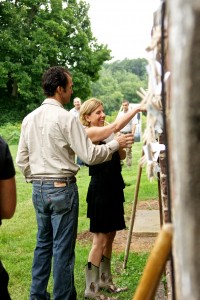 Date: Saturday, August 4, 2012
Time: 6:00-8:30 PM
Where: Lindsay Farm
Parking: Middle Bucks Institute of Technology, 2740 Old York Road, Jamison PA. Shuttle buses will transport guests to and from the farm.
Tickets: $75 per person, or $250 for a Locavore Ticket (two tickets + special benefits)
Photos: Click HERE
*** Click HERE to register! ***