Invasive Species Meet & Eat Classes, Part III
August 10, 2022 @ 6:30 pm

-

7:30 pm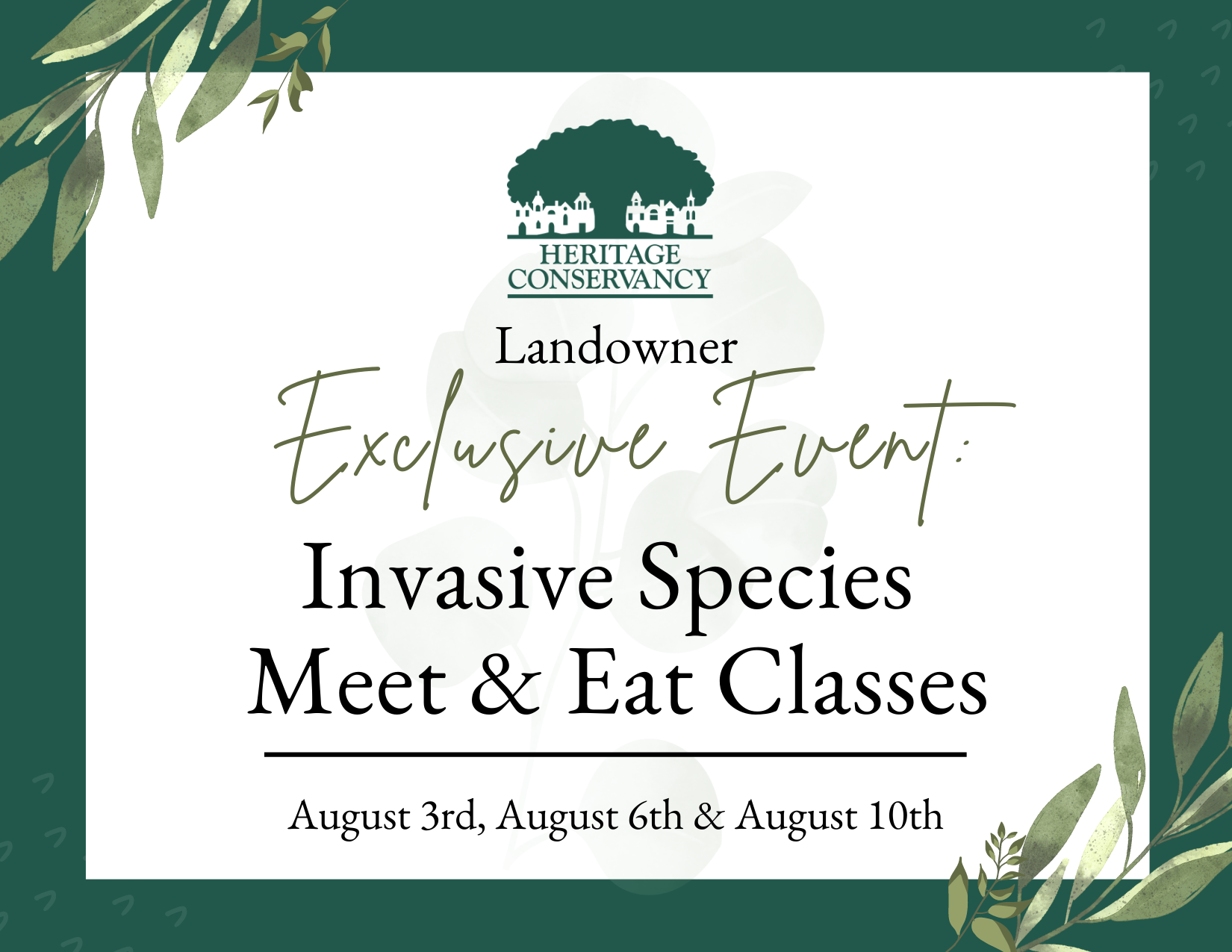 Please join Heritage Conservancy for this landowner-exclusive three-part series on identifying, managing, and eating prominent invasive plant species found in eastern Pennsylvania.
The United States East Coast has a higher concentration of non-native, invasive species than anywhere else in the country. These invaders pose severe challenges to conservation efforts by reducing overall biodiversity in the region and inhibiting forest regeneration in places where they are not managed.
Part III of the series will take place on Wednesday, August 10, 2022, from 6:30 PM to 7:30 PM at Heritage Conservancy's Russell-Mandel Preserve.
Join local expert, Marissa Jacobs of the Art of Ecology, and Heritage Conservancy staff for a unique trail-to-tasting experience. This event will highlight the ways in which you can turn the chore of invasive species management into a yummy culinary opportunity.
To begin, Marissa will take attendees on a hike to identify invasive species, and learn about removal techniques for several of these species, including Multiflora Rose, Wineberry, Autumn Olive, and more.
After the walk, guests will sit down for a chance to try some seasonal wild-edible drinks and snacks, all made with invasive species found in the community. They include Wineberry Gin & Tonic (alcoholic), Root Iced Coffee (non-alcoholic), Mixed Wild Berry Jam over crackers, and Pepperweed Salsa & chips.
During the program, we will also discuss the ways to mitigate invasive species spread through foraging and herbalism.
This class is a chance to:
Improve your plant identification skills

Learn more about how to forage for wild edible plants safely

Meet other landowners who are also dealing with invasive species management

Try some new foods and recipes
This event is free of charge and exclusively available to landowners whose land is subject to a conservation easement held by Heritage Conservancy.
Availability for Part III is extremely limited, so please RSVP early. To register, please contact Katie Toner, Conservation Easement Steward, by emailing ktoner@heritageconservancy.org or calling 215-345-7020 ext. 106.
A special thank you to our event sponsor, PA American Water, and our event partner, Penn State Extension Master Watershed Stewards!