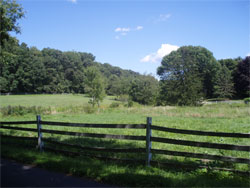 Based in Bucks County, PA, Heritage Conservancy is an accredited not-for-profit conservation organization that specializes in open space preservation, planning for sustainable communities, natural resource protection, property stewardship, historic preservation, adaptive reuse of existing structures, wildlife habitat restoration and biodiversity. Below is a list of services we offer for landowners.
Land Conservation
It's the home or property that has been in your family for generations. What's the next step? We can help you carry out your wishes while meeting your financial needs. Contact our experts to discuss various techniques including conservation easement, fee-simple donation, bequest, conservation-based development, and helping to obtain public funding.
Historic Preservation
How do you ensure that the most significant aspects of your property's rich history are preserved for generations to come? We can help you discover the stories your property can tell through historic resource inventories and structure evaluation.
Does your historic structure qualify for our Register of Historic Places? Click the link to learn more.
Master Site Planning
Do you have a large tract of land? We can help shape the strategic direction of your property.
Please contact us if you are interested in learning more about these services.