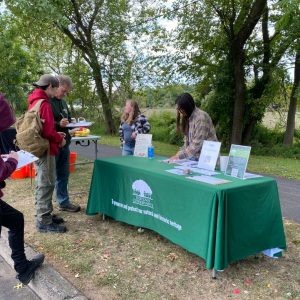 When you volunteer with Heritage Conservancy, you help protect and preserve our natural and historic heritage!
Heritage Conservancy initially began as a small group of volunteers. More than 60 years later, Heritage Conservancy has facilitated the preservation of over 16,000 acres of land and has established itself as a regional leader in conservation. Volunteers continue to be vitally important to the organization and help us achieve our mission of preservation. Consider joining us in our work to preserve our natural and historic heritage!
Volunteer as an individual – We have a wide range of volunteer opportunities that are perfect for individuals looking to volunteer. Check out our Volunteer Opportunities page.
Volunteer as a group – Do you have a school group, class, or scout troop that wants to do volunteer work in your community? Do you want to engage your employees in a corporate workday to benefit the local area while also team building? Contact us to learn more about available group opportunities by filling out this volunteer form so we can match your organization to a volunteer opportunity.
If you are interested in volunteering, please fill out our online volunteer form by clicking the Become a Volunteer button above. To discuss opportunities for you or your group, please contact Melissa at mlee@heritageconservancy.org or 215-345-7020 ext. 120.