Since 1958, Heritage Conservancy has been preserving and protecting our natural and historic heritage.
Heritage Conservancy is an accredited not-for-profit conservation organization that specializes in open space preservation, planning for sustainable communities, natural resource protection, property stewardship, historic preservation, adaptive reuse of existing structures, wildlife habitat restoration and biodiversity.
Through 60+ years of professional land use planning and design; innovative land conservation and historic preservation strategies; public outreach and education; and the application of "best management practices" for property stewardship, the Conservancy has established itself as an acclaimed full-service leader. Its national accreditation by the Land Trust Accreditation Commission affirms Heritage Conservancy's commitment to excellence, trust and permanence.
---
Our Board of Directors
Chairman
Stephen L. Phillips
Vice Chair
Maria T. Rieders, PhD
Treasurer
Kevin Zosulis, CFA
Secretary
Scott A. Reines, MD, PhD
Directors
Lynn Bush
Douglas L. Carr, CPA
Christopher B. Chandor, Esq.
Brian J. Clark, Esq.
Stephen G. Darlington
Nicholas DeRose, PG
Ralph C. Fey, AIA
Brian G. Firth, MD, PhD, MBA
Vail P. Garvin, FACHE
Richard (Dick) Henriques
Louis J. Lombardi
Jeffrey H. Nicholas
Frank C. Palopoli
Kevin Putman, Jr.
Jonathan Moore Sharaf MBA
Beth Snyder DMD
Julia R. Toner, Esq.
Trey Wilson, DDS
Chairman Emeritus

William Hart Rufe III
Directors Emeritus
Elizabeth H. Gemmill, Esq.
J. Lawrence Grim Jr., Esq.
Joseph R. Kempter, C.P.A.
---
Our Staff

Joyce G. Austin
Administrative Assistant
215-345-7020 ext. 100
Joyce is the Administrative Assistant for the Properties & Programs Department and the main technical support for production of narrative documents and other printed materials. She is also the voice and the face of the front desk. She has worked in secretarial/administrative assistant positions for more than 25 years and has completed numerous documents for the Conservancy.

Laura Baird
Senior Land Conservationist
215-345-7020 ext. 135
With nearly two decades of experience in land conservation, Laura's primary role as Senior Land Conservationist is to negotiate land protection transactions by writing grants, meeting with landowners and preparing baseline documentations in order to acquire conservation easements. She also works with municipalities to assist in the implementation of their open space plans. Prior to Heritage Conservancy, Laura was a Community Planner at the Monroe County Planning Commission where she managed the County Agricultural Land Preservation Program. Laura has a B.S. in Biology and Environmental Studies from East Stroudsburg University.

Elizabeth Barmach
Community Engagement Associate
215-345-7020 ext. 105
As Heritage Conservancy's Community Engagement Associate, Liz has the crucial role of managing the volunteer program to maximize volunteer opportunities and engage a broader community with the Conservancy's mission. She works with staff to determine organizational needs and then matches volunteers with positions appropriate to their skills. Liz holds a B.A. in Anthropology from Kenyon College and a certificate in Historic Preservation from Bucks County Community College. Before joining Heritage Conservancy's staff, Liz worked for the Bucks County Parks and Recreation Department.

Emily Bonavitacola
Development Associate
215-345-7020 ext. 107
As Development Associate, Emily focuses on cultivating both individual and business members for Heritage Conservancy as well as planning and hosting outreach events, which include Heritage Conservancy's two major fundraising events, Christmas at Aldie and Farm to Table. Prior to joining Heritage Conservancy, Emily worked at Pennsylvania Ballet where she expanded the Young Friends program, working to cultivate the next generation of donors. Emily also has experience in special events after serving as a development intern at The Historical Society of Pennsylvania in Philadelphia. Emily holds a B.A. in History from Temple University.

Linda J. Cacossa
Chief Operating Officer
215-345-7020 ext. 124
As Chief Operating Officer, Linda is responsible for the day-to-day business operations of Heritage Conservancy. This includes all fiscal activities, fundraising, marketing/branding and communications, property management and organizational strategic planning. She provides guidance to department management, establishing organizational performance metrics; driving the goal-setting process throughout the organization; and conducting regular operating reviews to assess financial results and projections relative to budgets. Linda provides the leadership, management and vision necessary to ensure that the Conservancy has the proper operational controls and administrative procedures in place to effectively grow the organization. Linda, a resident of Doylestown Borough, brings substantial experience including 20+ years in land planning and engineering as well as nonprofit management experience as the Executive Director of Fighting Children's Cancer Foundation.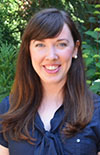 Alexandra Dashkiwsky
Manager of Marketing and Communications
215-345-7020 ext. 131
With a background in sales and marketing, Alexandra is responsible for overseeing and implementing Heritage Conservancy's strategic marketing initiatives. She executes the day-to-day communications operations, which include press releases, newsletters, publications, video production, social media, website material and advertising. Alexandra holds a B.A. in English from Millersville University.

Jim Drennan
Land Conservation Manager
215-345-7020 ext. 134
As Senior Conservation Steward, Jim's primary responsibility is to identify and implement conservation projects on our preserved properties to maximize the health of their natural resources for the benefit of wildlife and our community. Jim has a B.S. in Natural Resource Management from Rutgers University. Before joining Heritage Conservancy's staff, Jim worked as an environmental educator and land manager for the National Audubon Society and as a high school science teacher.

Dan Ford
Conservation Easement Steward
215-345-7020 ext. 150
Dan completes baseline documentation studies for new property acquisitions, monitors existing conservation easements, and manages municipal open space monitoring contract projects. He also manages the organization's preserved land property database and leads GIS and mapping work, conducting spatial analysis and cartographic design in support of conservation projects. Dan has a B.S. in Wildlife Conservation, Entomology, and Agriculture and Natural Resource Studies (Triple Major) from the University of Delaware. His previous experience includes environmental consulting and regulatory compliance, engineering and surveying, and geospatial software development.

Shannon Fredebaugh-Siller
Community Engagement Programs Manager
215-345-7020 ext. 104
Shannon works to connect people of all ages to the natural and historic wonders on Heritage Conservancy's preserved properties. She develops innovative cross-curriculum educational programs in partnership with local schools and works to provide moments of awe in nature for individuals, partner organizations, and students through community programming. Collaborating with communities and across regional watershed-wide initiatives, Shannon helps to connect the local work that Heritage Conservancy does to broader environmental initiatives. Shannon holds a B.A. in Zoology and Environmental Studies from Ohio Wesleyan University and an M.S. in Natural Resources and Environmental Sciences from University of Illinois at Urbana-Champaign. Shannon has worked on research projects ranging from wildlife behavior and habitat use to species diversity in biofuel agricultural systems and many more.

Carryn Golden
Aldie Mansion and Executive Projects Manager
215-345-7020 ext. 112
Carryn manages the flow of communication between board and staff, schedules board and committee meetings, and manages a variety of projects identified by executive staff. She is also responsible for coordinating and monitoring all projects and building operations for Aldie Mansion and its gardens, including renovations, restorations, the historic tours program, and working with the in-house catering company to promote Aldie Mansion for weddings, private events, and meetings. Carryn holds degrees in Interior Design and Urban Planning.

Diane Hillman
Accounting Manager
215-345-7020 ext. 118
Diane manages and performs various accounting functions such as developing, implementing and maintaining the accounting systems, policies and procedures; compiling, analyzing and reporting accounting data for management reports and decision-making purposes. She brings nearly thirty years of Accounting and Financial Management experience, ten of which were in non-profit, and an additional ten years were spent in residential and commercial development and land acquisition. With a strong interest in environmental issues and conservation, Diane has offered her support and services to several nationally-recognized organizations, one of which included marsh land restoration due to the BP oil spill in the Gulf Coast.

Laura Hornby
Aldie Mansion Caretaker
215-345-7020 ext. 120
As Caretaker of Aldie Mansion, Laura is responsible for maintaining the integrity and beauty of the building and grounds. Before working for the Conservancy, Laura worked for the McCarter Theater in Princeton (some of the props she crafted have gone on to Broadway and international tours!) and the Bucks County Playhouse, and she joined Heritage Conservancy's staff to continue working for an organization that values the protection and stewardship of cultural and natural resources. Laura holds a B.F.A. in Theater Design and Production from the University of Nebraska-Lincoln and Saint Margaret College, Edinburgh, Scotland.

Kris Kern
Director of Resource Protection
215-345-7020 ext. 101
Kris has more than ten years of land-use planning and conservation experience. In addition to assisting with Heritage Conservancy's grant writing and fundraising efforts, Kris works with municipalities and private landowners to protect land via conservation easements and fee acquisitions. Before joining Heritage Conservancy, she worked for the County of Bucks, administering three grant programs under its Open Space Program. Kris is a graduate of Kutztown University and the University of Pennsylvania, where she earned a Master of City and Regional Planning degree.

Melissa Lee
Community Engagement Associate
215-345-7020 ext. 120
As Community Engagement Associate, Melissa manages the volunteer program to maximize volunteer opportunities and engage the community with the Conservancy's mission. She coordinates with other staff members to determine volunteer needs and then matches volunteers to various events and positions in accordance with their skills. Melissa holds a B.A. in Anthropology with a concentration in Archaeology and a minor in History from Millersville University.

Jeffrey L. Marshall
President
215-345-7020 ext. 113
As President, Jeff leads the Conservancy's principal mission-related initiatives including Lasting Landscapes, historic preservation, land protection negotiation, and high-level strategic master planning. Jeff has over 40 years of combined experience in land protection and historic preservation. He is actively involved in administering the conservation easement and facade easement programs with expertise in the employment of protection strategies for significant resources. He gives public education programs and acts as a preservation advocate throughout the community. Numerous articles have been published on his endeavors in the preservation field.

Mary Lou McFarland
Senior Preservation Specialist
215-345-7020 ext. 109
215-283-0383
Mary Lou founded The Conservancy of Montgomery County (CMC) and served as its president for more than 20 years. As part of Heritage Conservancy's 2012 merger with CMC, she joined our staff in a leadership role. In this position, Mary Lou oversees the continual monitoring of eleven acquired conservation easements from CMC in addition to the conservation easements in Montgomery County already preserved by Heritage Conservancy. With an extensive background in historical research, she heads historic preservation projects in Montgomery County and surrounding areas as well. Mary Lou received her undergraduate from Indiana University of Pennsylvania and her Master's degree from Ohio State University.

Katie Paone
Manager of Development
215-345-7020 ext. 108
Katie is responsible for overseeing and managing the daily activities to implement fundraising and outreach efforts. Her role entails organizing engagement programs and special events and managing donor relationships. She also works to align individuals from the community to support strategic initiatives, continue organizational growth and expand mission awareness. Katie holds a B.S in Tourism and Hospitality Management with a concentration in Destination and Event Management from Temple University.

Jim Thompson
Senior Conservation Steward
215-345-7020 ext. 120
Jim has more than 20 years of experience in conservation and land management. He identifies, evaluates and monitors natural resources on Conservancy-owned properties and conservation easements. His primary responsibilities include preparing annual monitoring reports for these properties, conducting baseline documentation surveys and report preparation for acquisitions and conservation easements. Jim holds a B.S. in Natural Resources from the University of Michigan School of Natural Resources and Environment.

Katie Toner
Conservation Easement Steward
215-345-7020 ext. 106
As one of the Conservation Easement Stewards, Katie is responsible for completing baseline documentation studies for new property acquisitions and monitoring existing conservation easements. Recently graduated from Wesleyan University with a degree in Earth and Environmental Science, Katie was the Alliance for Watershed Education Fellow at Heritage Conservancy before joining the staff in 2020.

Sandra Yerger
Senior Development Associate–Grants
215-345-7020 ext. 103
Sandy has managed all aspects of member relations for Heritage Conservancy including planning, organizing and implementing special events, fundraising, educational programming and volunteer activities for more than 18 years. She is currently responsible for much of the Conservancy's development of community outreach programs and funding opportunities with private citizens, businesses and corporations, and private and family foundations.