At 85 Old Dublin Pike in Doylestown, PA, Aldie Mansion is a fitting home for Heritage Conservancy, a nonprofit membership organization whose mission is to preserve and protect our natural and historic heritage. Aldie's story is rich with history, and its survival is the result of a cooperative effort at preservation.
Aldie Mansion began its history as a beloved private residence. Commissioned by William and Martha Mercer as an ode to the English Tudor manor, this stately 1927 mansion evokes a time in America when craftsmanship reached an art form. The Aldie gargoyles, intricate brickwork, antique tiles and charming garden ornaments have been faithfully preserved as part of Bucks County's unique heritage.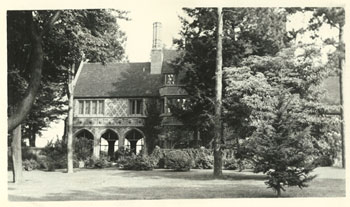 In fact, William Mercer himself sculpted many of the mansion's architectural details. William Mercer was the younger brother of Henry Mercer, Bucks County's renowned tile maker and concrete sculptor, and artistic talent ran in the family.
William and Martha Mercer were renowned hosts during their years at Aldie, and they regularly welcomed international luminaries into their home. As you stroll about, it is easy to recall the spirited evenings when Groucho Marx joked at the dinner table and the Von Trapp family caroled in the Great Hall.
Today, Aldie's rich history lives on as the adaptively reused headquarters of Heritage Conservancy and as a venue site for weddings, parties, conferences and more.
**Due to the nature of its use as a private event and office space, Aldie Mansion is not open for public tours on a regular basis. Keep an eye on our events page or sign up for our newsletter
HERE
for information about scheduled garden tours and open house dates.**
Please note that our photography policy has recently changed. For the foreseeable future, private photo sessions will not be made available for professional photographers or individuals. We apologize for any inconvenience.