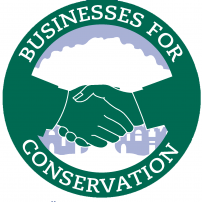 Event Recognizes Significant Contribution to Conservation
Doylestown, PA, April 23, 2012: Heritage Conservancy, an accredited not-for-profit conservation organization that specializes in preserving our natural and historic heritage, honored Mr. Thomas Hebel at its annual Business Member Reception on Thursday, April 19th at the organization's headquarters, historic Aldie Mansion in Doylestown, PA. Mr. Hebel was presented with the Conservancy's 2012 Business Leader Conservation Award.
With attendees that included many of the Conservancy's valued business members, as well as U.S. Congressman Mike Fitzpatrick and members of Heritage Conservancy's staff and Board of Directors, the event showcased Mr. Hebel's significant and profound contributions to conservation. Founder of Bucks Country Gardens, the company encompasses many facets of environmentally sustainable business practices, including recycling drop boxes on the property for used planters, and holding informational seminars on using native plants to create natural wildlife habitats. In 2011, Mr. Hebel cut the ribbon to Bucks Country Garden's own one-acre solar field, which produces enough energy to help run the facility.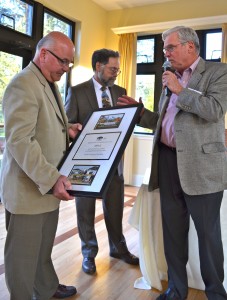 "Bucks Country Gardens is a fine example of a local business that is committed to green business practices," said Linda Cacossa, Heritage Conservancy's Chief Operating Officer. "As a long standing business member and supporter of Heritage Conservancy, we are pleased to recognize Mr. Thomas Hebel with this award."
U.S. Congressman Mike Fitzpatrick gave a Congressional commendation to Hebel, and Heritage Conservancy's Chairman of the Board, Marv Woodall, offered special congratulations.  As well, newly appointed President of Heritage Conservancy, Jeffrey Marshall, offered Hebel his compliments. The reception also honored the many business members who continue to promote the Conservancy's mission through their advocacy and generosity.
For more information – and to become a business member — contact Maggie Uliano at (215) 345-7020 x107 or via email at muliano@heritageconservancy.org. Or visit the Business Membership page.
About Heritage Conservancy
Based in Doylestown, PA, Heritage Conservancy is an accredited not-for-profit conservation organization that specializes in open space preservation, planning for sustainable communities, natural resource protection, property stewardship, historic preservation, adaptive reuse of existing structures, wildlife habitat restoration and biodiversity. Through 50+ years of professional land use planning and design; innovative land conservation and historic preservation strategies; public outreach and education; and the application of "best management practices" for property stewardship, the Conservancy has established itself as a acclaimed full-service leader. Its recent national accreditation by the Land Trust Accreditation Commission affirms Heritage Conservancy's commitment to excellence, trust and permanence. Learn more by visiting HeritageConservancy.org.
###
Contact:  Esme Artz
Heritage Conservancy
Phone 215 345 7020, x131
Fax 215 345 4328    85 Old Dublin Pike
Doylestown, PA 18901
Phone 215 345 7020
www.HeritageConservancy.org