Each ash species has leaves that generally turn a brilliant yellow in the fall.
Once a thriving component of PA forests, the ash tree genus (Fraxinus) has hit hard times in the past two decades. For me, the best antidote to this feeling is to imagine what may come next if we are good and intentional caretakers of these disturbed lands. Which native trees are best adapted to fill the ecological gap left by the loss of mature ash trees? Which of our wildlife will benefit from the new forests? There is no predicting the future, but with a better understanding of the web of relationships woven through our forests, it will become easier to anticipate the road ahead of us.
The Ashes
To answer the question of "which other trees will replace ash trees," let us first take a second to understand how ash trees fit into the forest landscape. To start, white ash (F. americana) is the most upland, most shade-tolerant and largest growing tree of the three ashes, reaching upwards of 80 to 100 feet tall.
Next comes green ash (F. pennsylvania) which prefers lowlands, needs lots of light, and generally doesn't get quite as big as white ash: more like 60 feet, maybe up to 85 feet.
Finally, black ash (F. nigra) is a swampy, bottomlands species that can range from a medium to large tree, anywhere from 40 to 80 feet tall.
Each ash species has leaves that generally turn a brilliant yellow in the fall. Once matured, they flower in the spring and some in early summer. These flowers are wind pollinated.
The Consequences
On a landscape scale, the rapid loss of the three ash species across a variety of forest types creates canopy gaps and an abundance of dead wood. These two new abundances lead to many other changes in the forest community.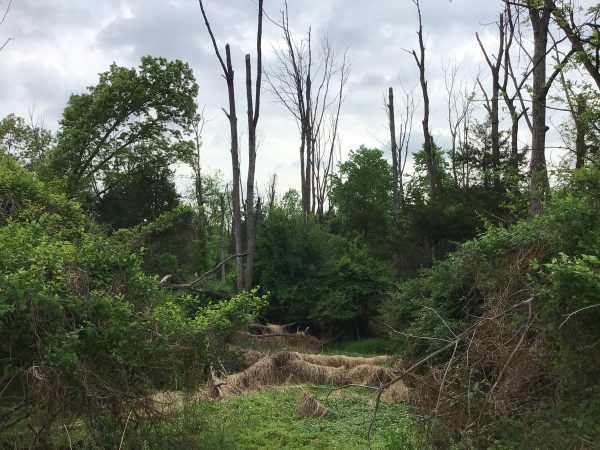 Canopy gaps allow more sunlight to reach the lower layers of the forest, releasing any saplings that have been waiting for their chance to grow into the canopy.
Coarse woody debris, both standing and fallen, contains a wealth of food and shelter for those species adapted to make use of it.
The loss of ash trees from our region will likely have a cascading effect on the species who directly interact with them. Here are two examples of species known to have a specialized relationship with ash trees, and who therefore have a lot at stake as our forests change:
Eastern tiger swallowtails (Papilio glaucus) – A wide ranging and iconic species of butterfly, the eastern tiger swallowtail relies on just a few species of trees to raise its caterpillars, three of which are the white, green and black ash trees. The loss of three out of their seven host tree species in this region also leaves these swallowtails more vulnerable should anything happen to their remaining four.
Wood frogs (Lithobates sylvaticus) – A common frog species in our eastern forests, wood frogs rely on forest vernal pools to lay their eggs and develop their tadpoles. Forest vernal pools are a type of habitat whose food webs are heavily dependent on leaf litter. Changes in the composition of that leaf litter result in changes in the abundance and composition of nutrients (such as carbon, nitrogen and phosphorus) and in water quality (such as pH, dissolved oxygen, etc.). Canopy gaps created by the death of ash trees expose the forest floor to more light, and with that, more heat. Unlucky vernal pools caught in these canopy gaps may dry up quicker, exacerbating the stress on the wood frogs and other pool inhabitants.
It's these wildlife species listed above that stand to be most affected by the change in forest composition, so their needs are one of the factors at play in identifying the ash trees' successors.
The Successors
The following list includes medium-to-large trees capable of being recruited into the forest canopy, within the gaps left behind by ash trees. These would diversify the tree species in our forests, and thereby cultivate ecosystem resilience.
In the gaps in bottomlands left by black ash:
American elm (Ulmus americana) – coincidentally, this recommended species is itself a survivor of an introduced pest. Like ashes, elms have wind-pollinated flowers and samara-type seeds.

Ideal growing conditions: from swamps to streambanks with full light to part shade (minimum 2 hours of direct light per day)
Growth rate: Fast to moderate
Mature size range: up to 100 ft.
Suitability for urban sites: Well suited
Adaptability to climate change: potential for small increases with medium certainty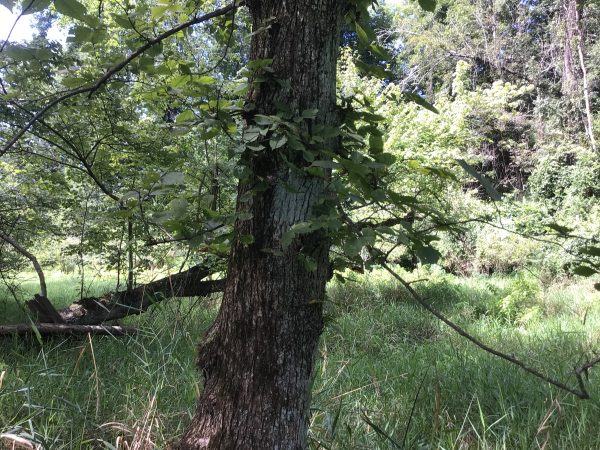 In the gaps in bottomlands left by black ash:
Willow oak (Quercus phellos) – in addition to thriving in the same range of water and light conditions as green ash, willow oak also provides acorns which feed a wide range of wildlife. Willow oak can be a host for a wide range of caterpillars, and among the oaks, is not very common.

Ideal growing conditions: with full light to part shade (minimum 2 hours of direct light per day)
Growth rate: Fast
Mature size range: up to 80 ft.
Suitability for urban sites: Suitable
Adaptability to climate change: low certainty, but potential for large increase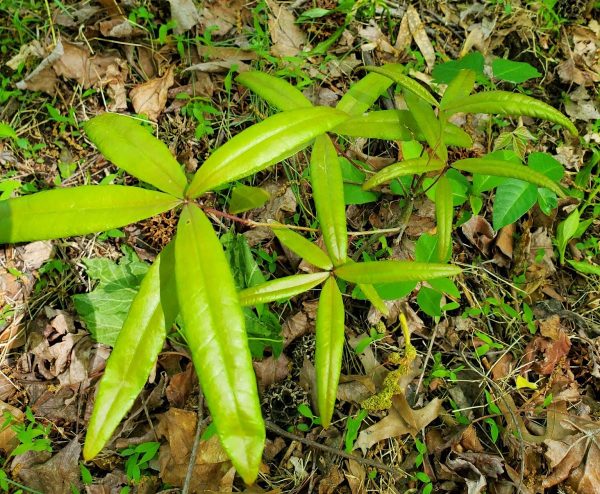 In gaps in uplands left by white ash:
Hackberry (Celtis occidentalis) – an uncommon and low density tree in our region, hackberry is a good candidate for adding species (and genus!) diversity to your forest. Hackberries have weird warty bark that makes identifying this tree a breeze.

Ideal growing conditions: moist, well-drained soils with full sun to full shade
Growth rate: Fast
Mature size range: 40-60 ft., up to 130 ft.
Suitability for urban sites: Suitable
Adaptability to climate change: potential for no change with medium certainty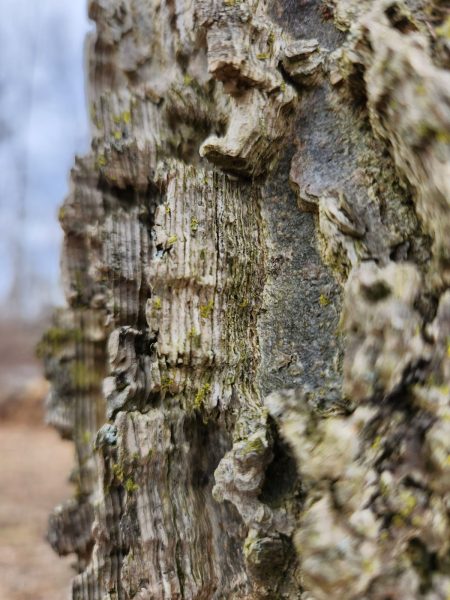 One of the best ways to know how much work to do, when to do it, and where to do it, is to create a Forest Management Plan. Whether you want to do it yourself (Penn State Extension has some resources and classes to guide you through that process) or hire a professional (PA DCNR has a list of recommended consulting foresters by service area), it is hard to know how to respond to the major ecological changes sweeping across the landscape if you hardly know your forest.
The Conclusion
It's hard to see all the potential ramifications of EAB and ash tree mortality from this vantage point in time. What matters most is that we respond with an ecological perspective and the goal of sustaining biodiversity, water quality, and rich soils, so that we lose as little as possible.
Thanks for reading!
Katie Toner, Conservation Easement Steward.
Resources for Further Learning: