In front of an audience of over 50 people, Heritage Conservancy received the "Excellence in Reuse" award on Friday, August 2nd, from the US Environmental Protection Agency for its reuse of Croydon Woods Nature Preserve, which was previously designated as a Superfund site but has since been remediated. EPA established the "Excellence in Reuse" award to recognize those people and organizations who have gone above and beyond in promoting the revitalization and productive reuse of formerly contaminated properties for the benefit of communities.
Only one site across five states in the EPA Mid-Atlantic Region receives this honor annually, and Heritage Conservancy's Croydon Woods Nature Preserve was this year's honoree.
In 2016, Heritage Conservancy acquired the 80-acre Croydon Woods Nature Preserve, which is one of the last remaining coastal plain forests in Pennsylvania. The preserve, located in Croydon, PA, provides publicly accessible green space in a developed area of Bucks County and is inhabited by many mammals, birds, reptiles, and amphibians. Heritage Conservancy works closely with the local Little League and the nearby Keystone Elementary School to provide field trips and educational opportunities at the preserve.
"Green spaces that exist in highly populated areas are some of the most important natural lands that exist today because they provide connections to nature for people who would not otherwise be able to experience it," said Heritage Conservancy President Jeffrey Marshall about the acquisition and reuse of Croydon Woods.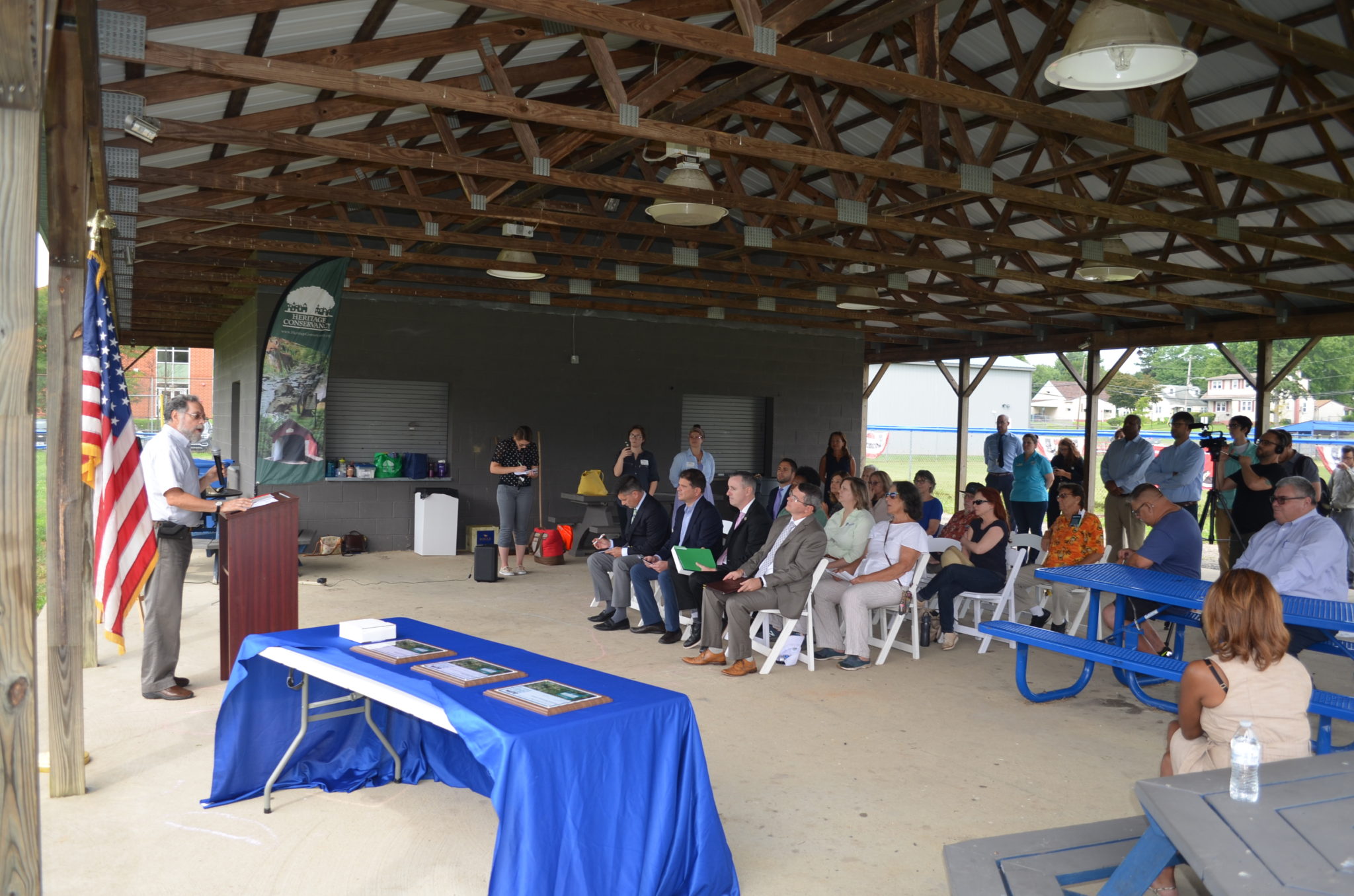 Speakers during the "Excellence in Reuse" award ceremony included Congressman Brian Fitzpatrick, Bucks County Commissioner Chairman Rob Loughery, Regional Administrator of EPA Region III Cosmo Servidio, Secretary Patrick McDonnell of Pennsylvania DEP, Ellen Miller of the Bristol Township EAC, and Heritage Conservancy President Jeff Marshall.
"When we talk about Superfund, we usually talk about cleaning up hazardous substances and easing the concerns of people who live or work nearby," said EPA Regional Administrator Cosmo Servidio. "Today, we get to talk about the incredible opportunities that Superfund sites offer for rejuvenating properties and revitalizing neighborhoods once they are cleaned up."
Congressman Brian Fitzpatrick remarked to nods of agreement from the audience that many Bucks County residents often tell people that they're from Bucks County rather than the actual town they are from. He explained, "I think it speaks volumes about how much pride we have because of [Bucks County's] uniqueness, because of the great services we have here, because of organizations like Heritage Conservancy that do amazing work … if not for them, there would be a huge void that would not be filled."
Heritage Conservancy's President noted that the organization could not have received this award if it weren't for the enthusiastic residents in the area.
"We thank the EPA for this award today and the foundations, corporations, and individuals who have provided the financial support of our work to make it all happen. This recognition is truly a reflection of the community members who have embraced Croydon Woods as their own, which has been evident by the neighbors who have joined us at many cleanups, nature hikes, and educational opportunities," said Jeff Marshall.
One neighbor who attended the EPA ceremony on Friday said that he has lived in the area since 1953 and has witnessed the full evolution of the property. He was happy to see it honored in such a way after its rebound.
Also acknowledged during the ceremony, the Pennsylvania Department of Conservation and Natural Resources, Bucks County, and Keystone Elementary School received certificates for their support of Heritage Conservancy's initiatives in reusing the property for the good of the surrounding community.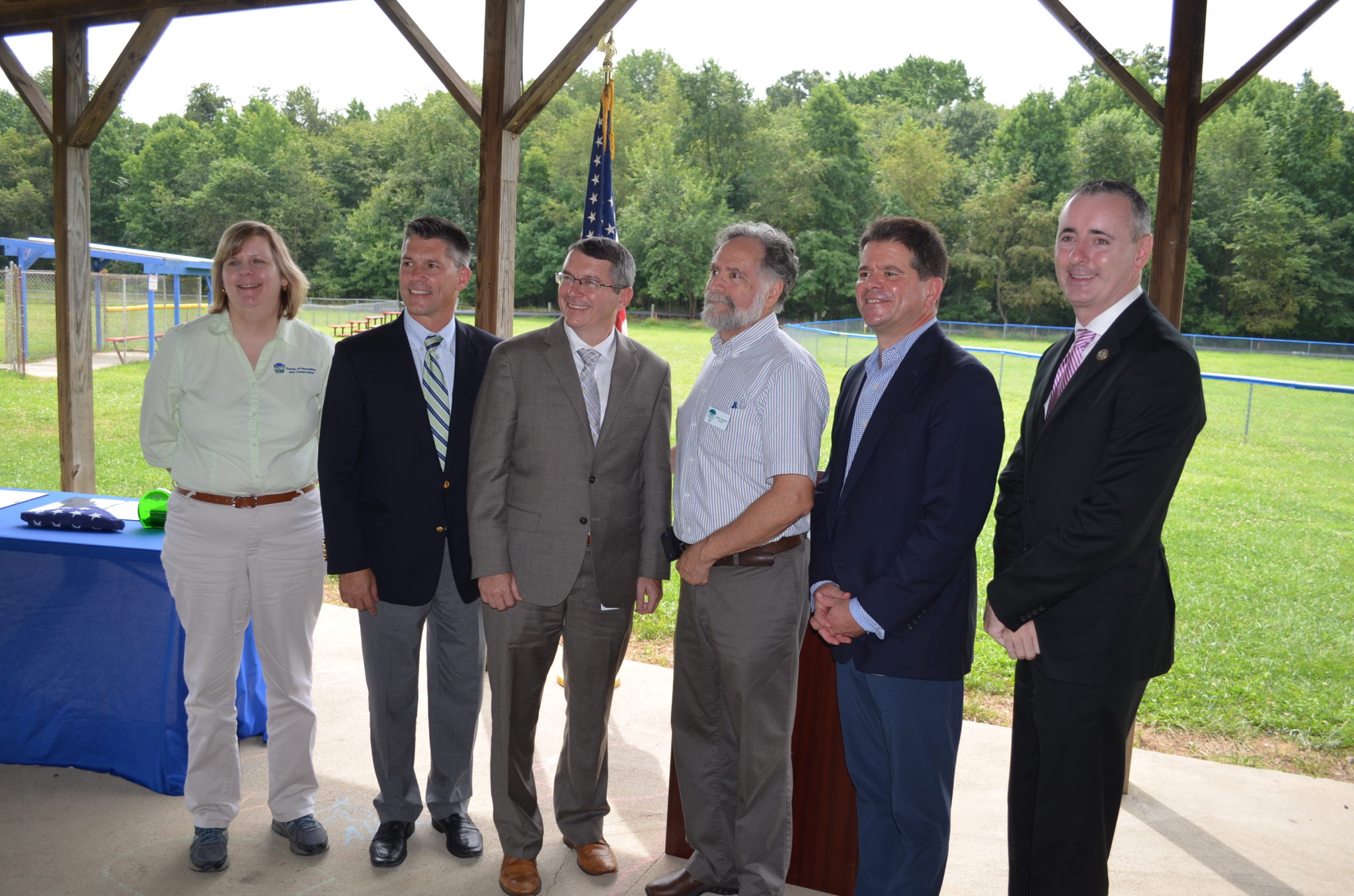 "We talk about how important it is in our community to have a place where we can live, work and play," Bucks County Commissioners' Chair Rob Loughery said. "Being able to connect with nature is part of that. It gives us the ability to connect … not only with nature, but also with one another, which is part of a community being revitalized."
In addition to the award from EPA, Congressman Brian Fitzpatrick had an American flag flown over the US Capitol in Heritage Conservancy's honor, and PA Senator Tommy Tomlinson issued a citation of congratulations to the Conservancy in honor of the EPA's recognition of the organization.
It was an uplifting and inspiring day of accolades for Heritage Conservancy and the Croydon community, and the reuse and engagement at Croydon Woods is only just beginning.