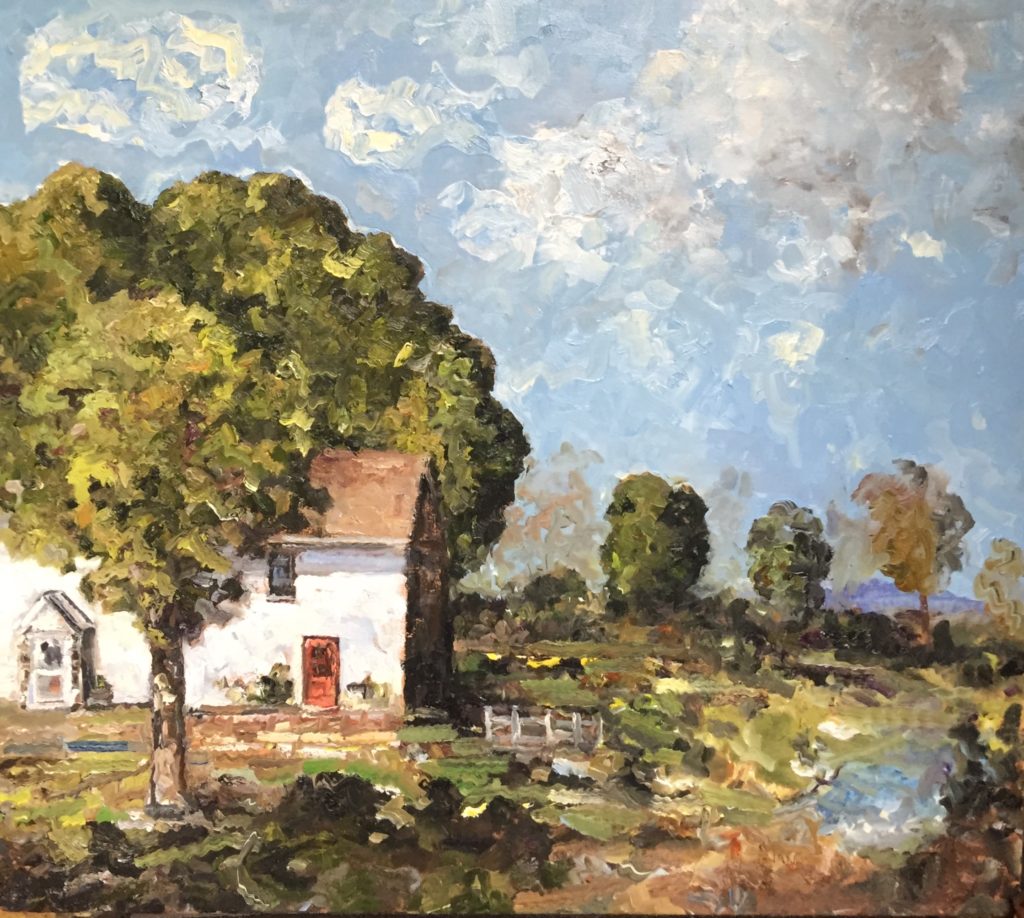 Heritage Conservancy has announced that it will transform its historic Aldie Mansion headquarters for "The Wind in the Willows of Bucks County: An Alan Fetterman Exhibit." Alan Fetterman, one of Bucks County's premier plein air impressionist painters, embarked on a creative journey to impart his talents for The Wind in the Willows of Bucks County, a modernized-but-faithful reimagining of Kenneth Grahame's Victorian river tale that was originally written in 1908. The community is invited to celebrate this legacy novel and to view Alan Fetterman's original artwork that commemorates the beauty of our region. After a private preview set for the night before, Heritage Conservancy welcomes the public to Aldie Mansion in Doylestown, PA, for an open house on Sunday, November 26th (Thanksgiving weekend), from 11:00 AM to 2:00 PM.
A team of community philanthropists including Geoff and Gretchen Jackson of the Vesta Fund, Michael Katz of Strider Nolan Media, Inc., and Linda Deeter of Deeter USA teamed up with Heritage Conservancy to work throughout the year on updating the beloved children's novel The Wind in the Willows with a Bucks County salute! The story follows the tale of Mole, Rat, Toad, and Badger, and this revised version of the book places them in the heart of Bucks County. Evoking pride and sense of place, recognizable landmarks from our area are peppered throughout the story, including Heritage Conservancy's Aldie Mansion, the Black Bass Inn, the Michener Museum, the Delaware River, and many others.
To order a book, click HERE.
Community members will delight in the book's acclaim of Bucks County and the natural and historic landscapes that make our area so unique. Exquisite painting pages and sketches provided by Alan Fetterman illuminate the story and further connect readers with the heritage of Bucks County. Mr. Fetterman's exclusive "The Wind in the Willows of Bucks County" art collection features twelve 36" by 40" oil on linen paintings that depict many of our area's preserved treasures. Other pieces of Fetterman's artwork will be available during the open house exhibit as well.
"Bucks County is my homeland. I love it like no other," says Alan Fetterman. "With its many trickling creeks leading to the long and winding Delaware River, all souls near and far can readily witness nature's beauty in hand, heart, and mind."
As a dedicated advocate of the Delaware Valley Region, a collaboration with Heritage Conservancy was a natural fit for Fetterman. Through its mission, Heritage Conservancy ensures a future for the picturesque views that fuel Alan's creativity.
Because of his strong connection to our region, Fetterman is generously donating 30% of the purchase price of his "The Wind in the Willows of Bucks County" paintings and 20% of all other artwork to Heritage Conservancy's Keeping the Promise (KTP) fund. The KTP fund strengthens Heritage Conservancy's promise to landowners and the local residents to protect our natural and historic heritage in perpetuity.
"It is an honor to be a part of this collaboration with Geoff and Gretchen Jackson of the Vesta Fund, whose efforts always bring hopeful promise to the benefit of many, and to ultimately support Heritage Conservancy for impeccable leadership toward preservation and stewardship of the land we love," says Fetterman.
Funding for the printing of all The Wind in the Willows of Bucks County books in their entirety was provided by the Vesta Fund. Less than 200 copies of the collector's edition leather-bound version of The Wind in the Willows of Bucks County are available to the public for a donation to Heritage Conservancy's KTP fund. This book is a community gift and high-end collector's item that will be cherished for years to come, and it is available just in time for the holidays too.
Through its support of this project, Vesta Fund hopes to achieve many important charitable goals: to raise awareness about historic preservation and green space protection; augment educational efforts in the local public schools; and embrace and support the Bucks County fine arts community. A paperback version of the book, along with a teachers' guide, will be distributed to schools in the new year. Heritage Conservancy extends gratitude to Vesta Fund for envisioning, spearheading, writing, designing, and funding this project as a gift to area schoolchildren.
"Working with this group of philanthropists has been truly inspiring. Each person brought their own passion and focus, and these interests combined to reflect the best of what our region has to offer: an appreciation of the arts, education, and our natural and historic places," says Linda Cacossa, Chief Operating Officer for Heritage Conservancy. "Our team at Heritage Conservancy is proud to have played a part in bringing this legacy to our community."
"The Wind in the Willows of Bucks County: An Alan Fetterman Exhibit" is open and free to the public on Sunday, November 26th, from 11:00 AM to 2:00 PM. Aldie Mansion is located at 85 Old Dublin Pike in Doylestown, PA. For more information about Sunday afternoon's open house, visit HeritageConservancy.org or contact Carryn Golden at 215-345-7020 ext. 112.