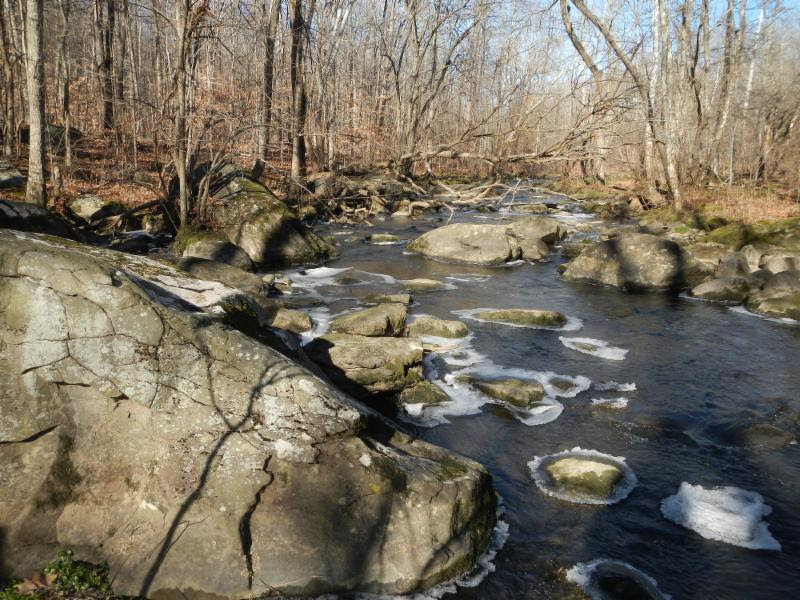 Recognizing that his East Rockhill Township property was special (a property known to many of you as the Tohickon Family Campground) and understanding a need to protect it, Jerry Deegan worked with Heritage Conservancy to successfully list the campground's Levi Sheard Mill on the National Register of Historic Places in December 2006. This stone gristmill was originally built in 1825, and it is right around the corner from the Sheard's Mill Covered Bridge.
Around the same time that he had his gristmill listed, Jerry began talks with Heritage Conservancy to preserve the forested land on which the mill stands. Unfortunately, things didn't fall into place the way they needed to in order to bring it to fruition, so the project to preserve his land was shelved. Jerry Deegan passed away in 2008 at the age of 65 and was sadly unable to revisit his dream of protecting his cherished family property in perpetuity.
But what happens to a dream deferred? It sits on a shelf until the timing is right, and that's when your son picks up the torch and carries it for you the rest of the way.
It's been a decade since the process of preserving the Tohickon Family Campground began, and we are pleased to announce that "the perfect storm" (as James Deegan, Jerry's son, puts it) came together this time around. The Deegans' property is now officially preserved. With East Rockhill Township funding the preservation, the Township will hold the conservation easement on 32.9 acres of the property, and Heritage Conservancy will support the easement as a land trust beneficiary.
Located in close proximity to lands preserved by Bucks County and near Nockamixon State Park, the Deegans' property offers a unique view of natural and historic wonder. As the Tohickon Creek winds along the preserved woodlands, great blue herons, geese, and other wildlife are frequently spotted. A public trail on the property provides accessibility for everyone to experience this rich natural resource.
It's this public access that resonates with James Deegan. "It's important to strike a healthy balance with preserving land for wildlife and developing land for people," says James. "We all benefit from protected land, and we are pleased to preserve the Tohickon Family Campground for the use and enjoyment of the community."
Now in its 30th year in business, the Tohickon Family Campground's motto is, "You start the family traditions, and we'll help make the memories." James believes the motto is a direct reflection of his own family, who revel in being outside together and appreciating nature. This enthusiasm for nature stems from Jerry Deegan, who helped to instill that appreciation in generations of Deegan family members.
"I see my father in my children's eyes. Preserving this property that meant so much to him and to our family brings it all full circle," says James.
It truly has come full circle. Jerry Deegan started the Deegans' legacy by getting the Levi Sheard Mill listed on the National Register of Historic Places, and James Deegan has cemented that legacy with the preservation of the Tohickon Family Campground.
"What the Deegans have done as a family is historically, naturally, and culturally significant to the community," says Laura Baird, Senior Land Conservationist for Heritage Conservancy. "Heritage Conservancy was pleased to support East Rockhill Township's efforts to make this happen."
"The preservation of this site has always been a priority to East Rockhill Township because it contains a riparian corridor, which we make an effort to preserve," says Marianne Morano, Township Manager for East Rockhill Township. "Being able to preserve a site with the historic Sheard's Mill owned by the Deegan family as well as obtaining a trail easement for a potential future trail to Nockamixon State Park has made this a valuable addition to Board preservation efforts."
Solidifying his family's legacy in the community, James Deegan can feel his father's pride. His dream is fulfilled.