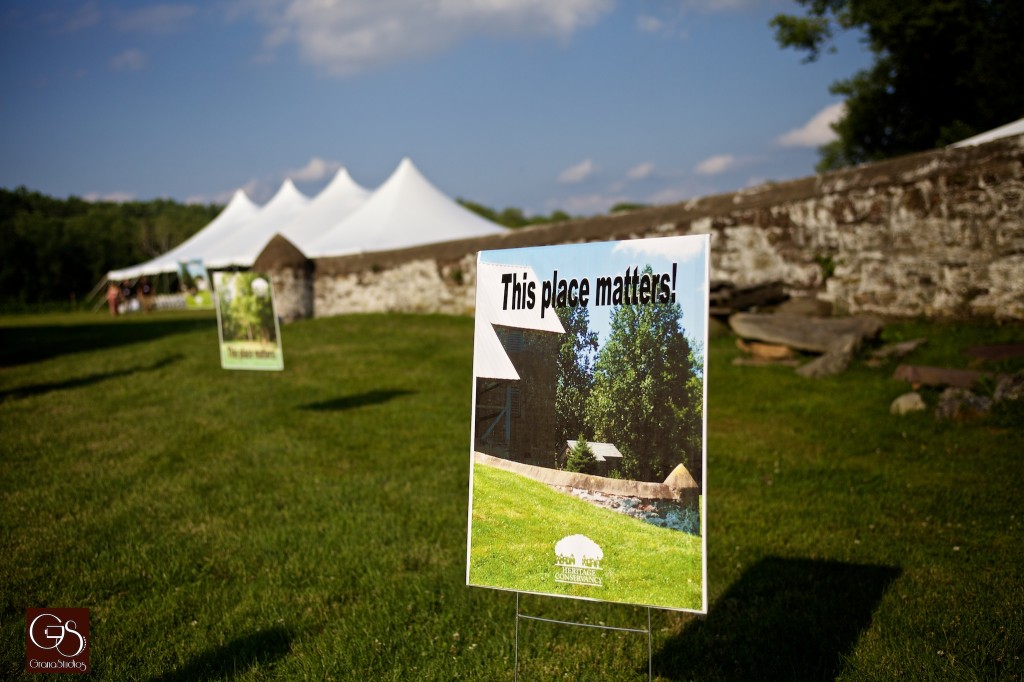 Proceeds benefit land conservation and historic preservation in Bucks County
Heritage Conservancy held its 6th annual Farm to Table on Saturday, July 26th, at the Lindsay Farm Preserve in Jamison, PA. Hosting to a sell-out crowd, this year's event was the highest attended and most successful Farm to Table to date. Over 220 guests helped to raise $40,000 toward the Conservancy's mission of preserving and protecting our natural and historic heritage!
Heritage Conservancy's Farm to Table fundraising event provides guests with an opportunity to connect with nature on a preserved property while enjoying a uniquely Bucks County dining experience. This BYOB event boasted a delicious meal creatively prepared by Jamie Hollander Gourmet Foods & Catering made using ingredients provided by local farms. Hors d'oeuvres followed by a buffet-style dinner were served al fresco among the Lindsay Farm Preserve's scenic landscape of lush, rolling hills bordered by fields of cornstalks and historic treasures like the Kirby farmhouse and barn.
A large focus of the evening centered on stabilizing the historic Kirby Barn. The barn suffered damage due to a treacherous winter, and the Conservancy hopes to secure the barn so it can be eventually adaptively reused for environmental educational outreach programs that will benefit our community. The enthusiastic Farm to Table guests donated $9,000 toward stabilizing this historic structure.
Along with supporting the Kirby Barn at Farm to Table, guests had the opportunity to participate in silent and live auctions for a variety of items that were generously provided by local artisans and vendors. The energy and excitement of the crowd made the live auction seem like an entertaining show! With laughter abound, our community joined together to recognize the significance of local farming and the land on which our food is being grown.
Luke Smithson, Executive Chef for Jamie Hollander Gourmet Foods & Catering, described the important connection between Heritage Conservancy's mission and agriculture in this area while addressing the group. "Supporting our local farmers and preserving these lands not only promotes our food security and independence, it preserves our heritage and celebrates the absolute best our region has to offer."
Farm to Table celebrates community as it connects people to Heritage Conservancy's mission and the land on a deeper level. The participation of all sponsors, donors, volunteers, and guests in attendance at Farm to Table shows that our community values local agriculture and that it understands the need to work together to preserve and protect our natural and historic heritage for future generations to enjoy.
Heritage Conservancy's Art of Preservation farm to table dinner at Kirkland Farm in Upper Bucks County will be held on September 20th. Purchase tickets HERE.
Thank you to the Business Leaders of Heritage Conservancy for supporting events throughout the year: Jeffrey A. Miller Catering, The Thompson Organization, Eiseman Construction Company, Inc., Penn Color, Inc., Cross Keys Place Shopping Center, Univest Bank and Trust Company, AmeriStructure LLC, Brooks & Barber Tree Management, Curtin & Heefner LLP, Dear Garden Associates, Inc., Hill Wallack LLP, Jamie Hollander Gourmet Foods & Catering, National Penn Bank, PPL Corporation, and Zaveta Custom Homes, LLC.
Thank you to the following Farm to Table event sponsors: Hill Wallack LLP, Eiseman Construction, Antheil Maslow & MacMinn LLP, Silverman Family Partnerships, and TMA Bucks Foundation.
View photos from the event HERE.