Our Russell-Mandel Preserve at sunset, as a hot air balloon passes above the celebration. Photo by JP De Guzman.
On a perfect July evening, 200 people joined us for our annual Farm to Table fundraiser. This unique celebration included a delicious, locally-sourced menu prepared by Jamie Hollander Catering & Events, beautiful views of our Russell-Mandel Preserve, live music from Mukamuri, and more.
Our Property Stewards led tours of the preserve and provided a glimpse into the impact preservation has on local natural resources, such as our pollinator patches. The night also included a standing ovation for COO Linda Cacossa, as this was her last Farm to Table before her retirement.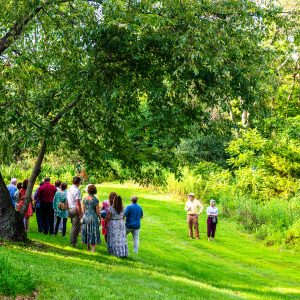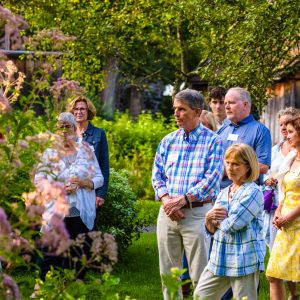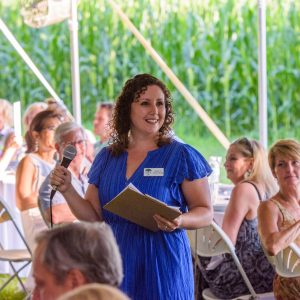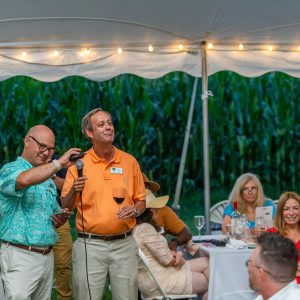 Photos by JP De Guzman.
The live auction bidding was enthusiastic, and the crowd generously responded to the appeal for support of our 60 current land preservation projects – an increase from 25 projects at this time last year. Over 40 individuals and couples "raised their paddles" to contribute close to $65,000 under the tent that evening, yielding an event net total of over $85,000!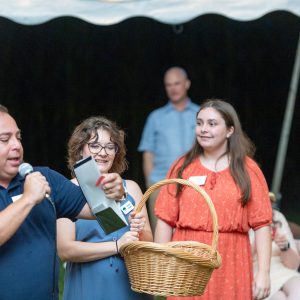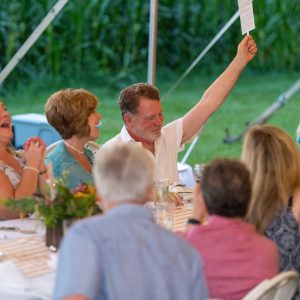 Photos by JP De Guzman.
Thank you so much to everyone who attended and supported this important effort.
Click here to contribute to our mission appeal.
—
Stay tuned for more photos from our Farm to Table Program Book.
If you would like more information about attending next year's Farm to Table event or about contributing to Heritage Conservancy's land preservation efforts, contact Katie Paone-Kulp at kpaone@heritageconservancy.org or 215-345-7020 x108