In May, four new interns joined the Heritage Conservancy ranks to expand their knowledge of conservation and the environment and to learn what it's like to work for a non-profit land trust. Susan Slawinsky (Keystone College graduate, attending East Stroudsburg University for graduate school this fall), Zack Moyer (Delaware Valley University graduate), Dylan Fleisher (Indiana University of PA graduate), and Tom Wegman (Dickinson College senior) have been busy with a variety of projects, already creating a lasting impact through their diligence and dedication.
The primary focus for the interns this summer has consisted of resurveying forestry plots. Installed two years ago in several locations throughout Bucks County, the plots are used to garner an index of every plant species contained within the plots' boundaries and to monitor the health and well-being of the forest as a whole. This is important data as researchers across the northeast will use it to keep track of long-term changes in the forest and whether or not they need to make adjustments to their management of invasive species and deer. This project is only in its infancy as we hope it continues for several decades.

The interns are not only identifying invasive species, but getting rid of them as well– sometimes in style! Backpack torches were a big hit as they used them to eradicate Japanese barberry, an invasive species that can overtake an entire forest floor and wreak havoc on native species. Don't try this at home though, as the torches are only to be used under certain conditions where other methods are not possible!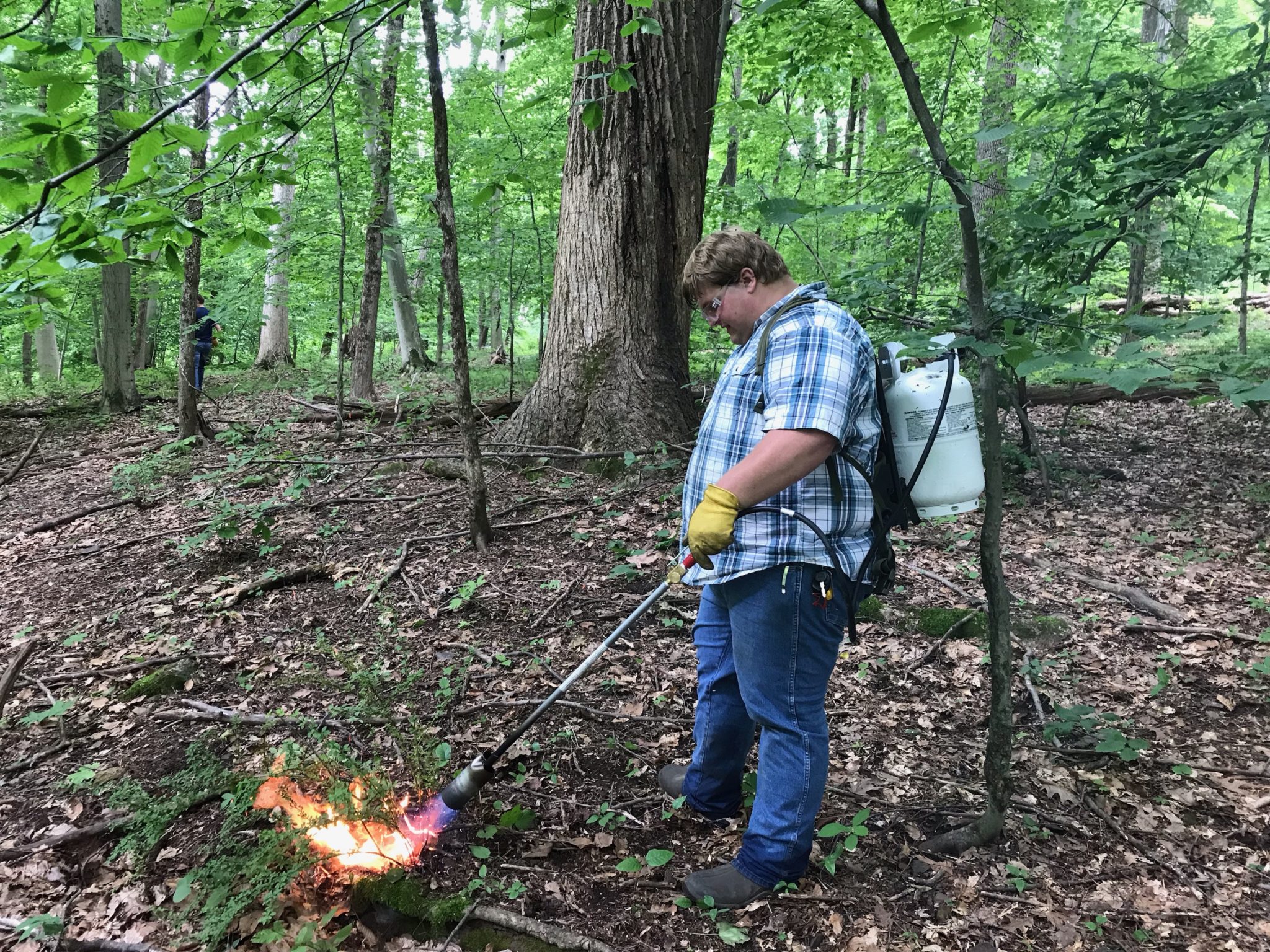 The projects don't end there! The interns created a Monarch Way Station at our Quakertown Swamp Preserve as part of Monarch Watch's goal to support the monarch butterfly, a species currently struggling to survive. The way stations are primarily made of milkweed, which supports caterpillars, and several nectar-producing plants such as iron weed, goldenrods, and asters. The interns are particularly keen to observe the growth of the way station as the summer progresses.

The interns also did their part in sharing their expertise with the younger generation as they assisted students from Keystone Elementary School in identifying butterflies, birds, and dragonflies through binoculars as part of the forest food web. Pools of water were also scoured for frogs and insects. It was an entertaining yet educational day as the interns witnessed first hand the significance of getting youth out into and engaging with nature.

Lastly, those in attendance at our 11th annual Farm to Table this weekend may have noticed the beautiful gardens full of native species supporting our native pollinators. We have our amazing interns to thank for maintaining them so well! It has certainly been a busy yet rewarding two months for our interns, and there is still plenty more to go!