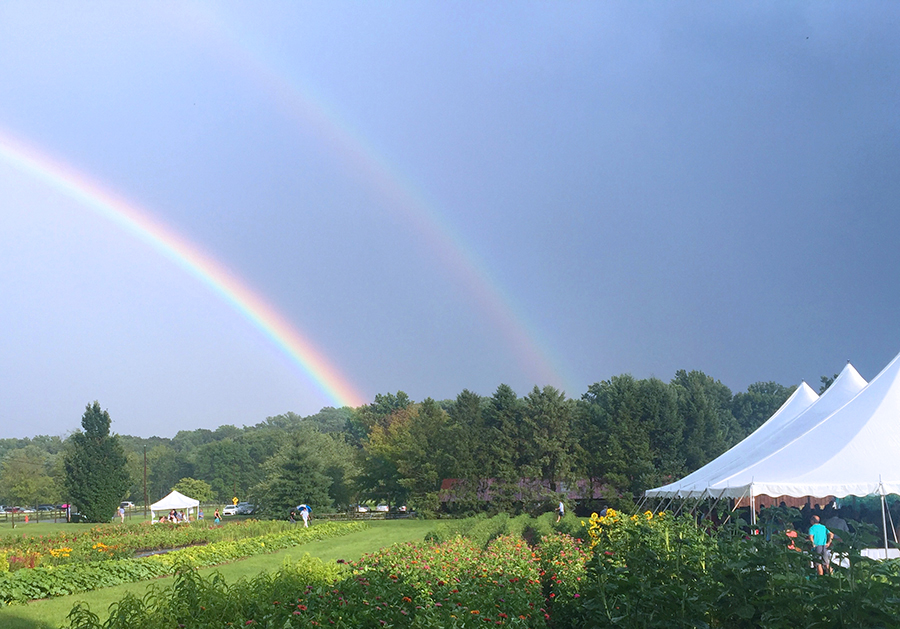 To view more photos from this event, click HERE.
To see the memory book from this event, click below

Heritage Conservancy held its 8th annual Farm to Table on Saturday, August 6th, at Manoff Market Gardens in New Hope, PA. Hosting to its largest crowd to date, over 300 guests helped to raise $50,000 toward the Conservancy's mission of preserving and protecting our natural and historic heritage. That is the largest amount raised at any previous Farm to Table dinner!
Preserved in 1984 by Heritage Conservancy because of its highly productive agricultural soils, Manoff Market Gardens resides on a 36-acre protected property that is owned by Heritage Conservancy. It represents a living example of a model partnership between farmers and land trusts like Heritage Conservancy. Manoff Market Gardens raises some of the most sought-after produce in the area while also incorporating environmentally sustainable farming techniques.
With Farm to Table's white canopies placed right in the heart of the farm and surrounded by rows of tomatoes and raspberries, the correlation between preserved land and the food we eat rang clear to the event's guests.
Jamie Hollander Events & Catering creatively prepared a delicious Farm to Table meal made using ingredients provided by local farms, including Manoff Market Gardens. Hors d'oeuvres followed by a seated dinner were served in this picturesque outdoor setting. While indulging in these delicacies, guests had the opportunity to participate in silent and live auctions for a variety of exciting items provided by local artisans and vendors.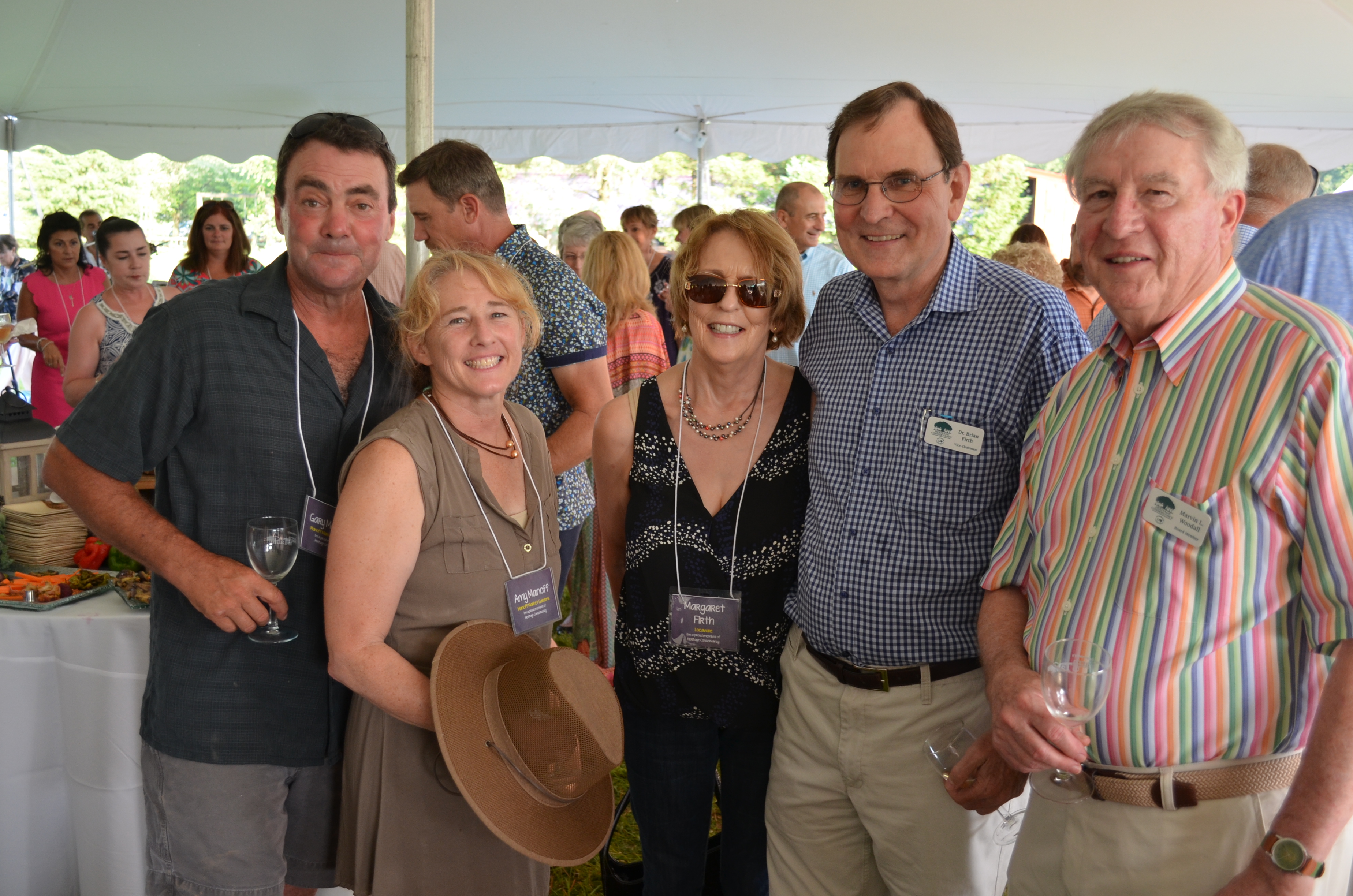 Farm to Table celebrates community as it connects people to Heritage Conservancy's mission and our area's natural resources. The participation of all sponsors, donors, volunteers, and guests in attendance at Farm to Table shows that our community understands the importance of collaborative stewardship and the need to work together to preserve and protect our natural and historic heritage for future generations to enjoy.
While addressing the group, Jeffrey Marshall, President of Heritage Conservancy, emphasized the greater significance of what community support means to the Conservancy's mission. "What we do is preserve land and historic buildings, and how we do it is with people. People care about our mission because they want to be part of something bigger than themselves. One act, like a stone in a pond, can have an enormous ripple effect."
Laura Baird, Senior Land Conservationist for Heritage Conservancy, further elaborated on this concept. "Everyday at Heritage Conservancy, we are part of something bigger. We preserve forests to ensure we will have clean air to breathe and fresh water to drink. We preserve farmland to ensure we will always have places to grow food. In essence, we are working together to preserve the basic needs of life."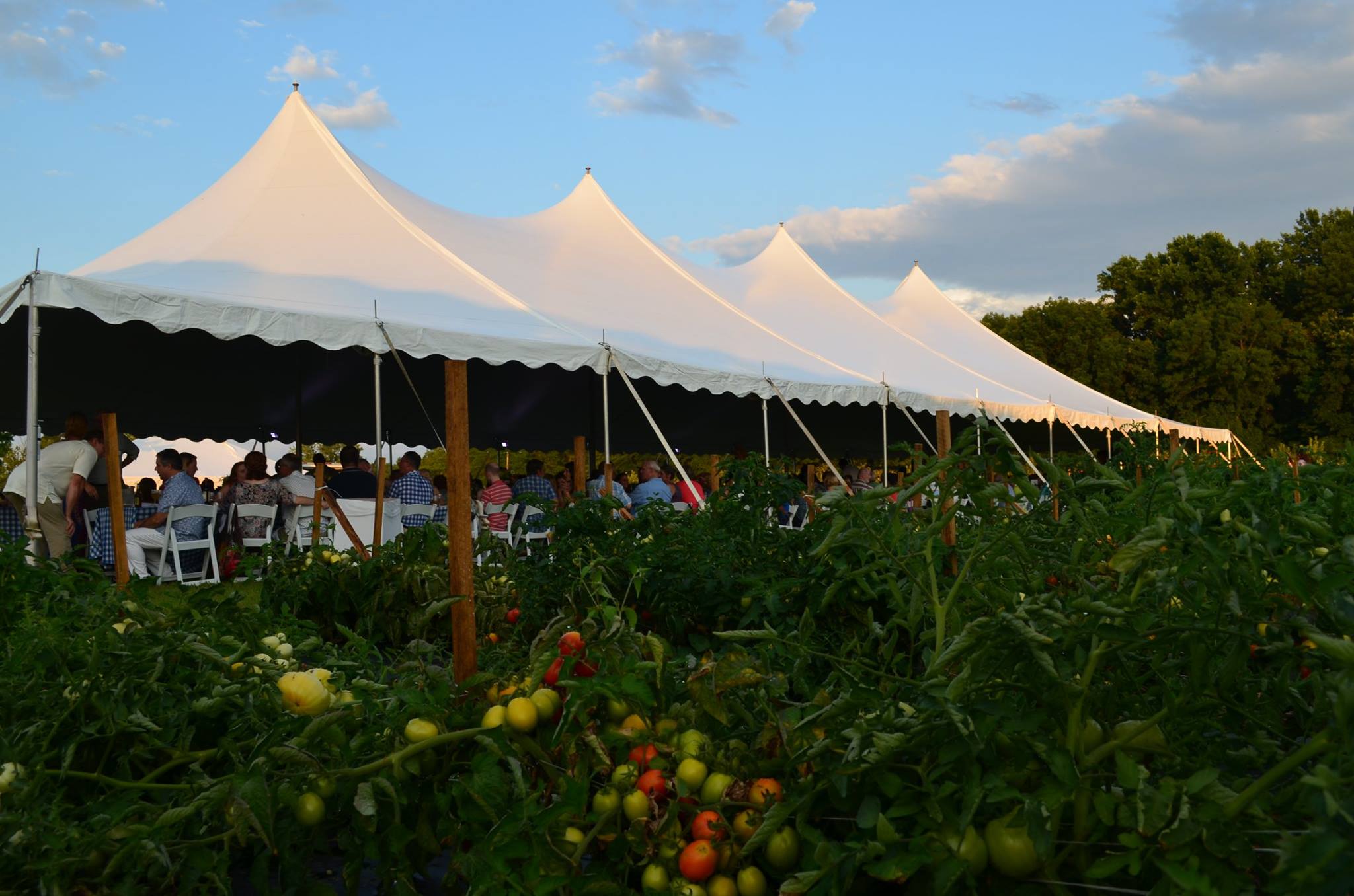 Thank you to the following Farm to Table event sponsors: Presenting Sponsor: Fox Rothschild LLP; Supporting Sponsors: Jamie Hollander Events & Catering, Peruzzi Toyota, Univest; Participating Sponsors: AmeriStructure LLC, Antheil Maslow & MacMinn LLP, Brooks & Barber Tree Management, Bucks Country Gardens, Bucks Digital Printing, Curtin & Heefner LLP, Hill Wallack LLP, Langan Engineering and Environmental Services, Ralph C. Fey AIA Architects PC, Steaz-Healthy Beverage LLC, Wehrung's Lumber & Home Center, and Worth & Company, Inc.