At Heritage Conservancy, we work to inspire the next generation to respect nature and care for their surroundings. When it comes to conservation and environmental education, we like to start outreach early!
So we were heartened to hear from leaders at No Longer Bound, a community nonprofit that serves the community around Bristol — young and old — on many fronts, from addiction prevention to a community food bank and education programs for school kids.
We established a relationship with No Longer Bound last year, and it has grown into even more programming this year.
For three weeks this summer, our educational outreach team visited their summer programs for kids on a weekly basis to share environmental fun and educational activities with a group that ranged in ages from kindergarteners to 7th graders. The students learned about nature and caring for the watershed through engaging activities with Heritage Conservancy educators Kaylyn Brindisi and Whittier Henke and Sam Zercher, our AWE Delaware River Watershed Fellow.
Together they explored the grounds around the building where they play, enjoying games and structured activities.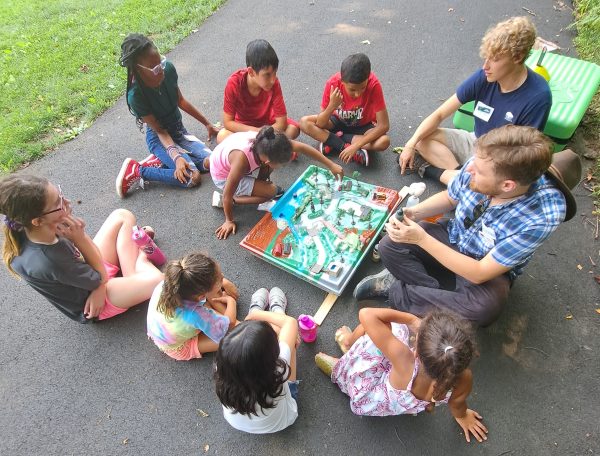 By the 2nd week, the students had observed more litter on the grounds than they were happy with, so they decided to take action. They discussed the idea that people may not know that kids play here, which is why they were being careless, leaving trash behind. They decided to develop signs to inform the community.
In their 3rd week, they discussed words and pictures they could use on their signs to stop the littering. Students collaborated and shared their skills to develop the signs. Their design will be printed on lawn signs to use around the grounds.
Heritage Conservancy staff essentially guided them through what we now call an "accidental MWEE" (Meaningful Watershed Education Experience): Issue Definition, Outdoor Field Experiences, Synthesis and Conclusion, Environmental Action Project.
We strive for this type of engagement in our programming. We want to connect, educate, and empower people of all ages, so they believe that they can truly be a part of the solution to local problems. Our educators are sewing the seeds of stewardship.
"Because of you, our campers were able to experience a great deal of educational fun this summer," says No Longer Bound Program Coordinator Christine McKinney. "Our campers loved the outside games, nature walks, 'nature moment,' and creating the posters."
"Thank you very much for the time, money, energy, and effort you put into creating an unforgettable experience for our campers. We are looking forward to continuing our partnership with you."
Read more about our community outreach and discover our environmental educational materials and videos.