Some of the oldest buildings in our country are located right here in our region, and with that comes the responsibility to recognize and protect that architectural history.
Heritage Conservancy is excited to share that it recently facilitated the listing of the John Wagner and Family Farmstead to our country's National Register of Historic Places. The farmstead is located along Meadows Road in Lower Saucon Township, Northampton County.
Originally owned by John Wagner and dating back to about 1840, the John Wagner and Family Farmstead benefitted from its close proximity to the North Pennsylvania Railroad, which opened in 1855. The railroad made the transfer of agricultural products easier than the existing road network.
Because of this good fortune, the Farmstead underwent expansion and growth throughout the years. The current Farmstead consists of a main two-section brick house, a large stone barn, and seven outbuildings. All of the buildings appear to date from 1840 to 1940 and retain their architectural integrity.
The house is an early Victorian period, mid-century vernacular, two-section brick farmhouse. The main barn is truly the pièce de résistance. It is a stunning example of a Standard Pennsylvania Closed Forebay style barn circa 1849.
Because it is such an integral part of the farmstead, owners Jerry and Joanne Holum focused their restoration efforts on the barn when they purchased the farm in 1986, at times prioritizing it over the needs of the house itself.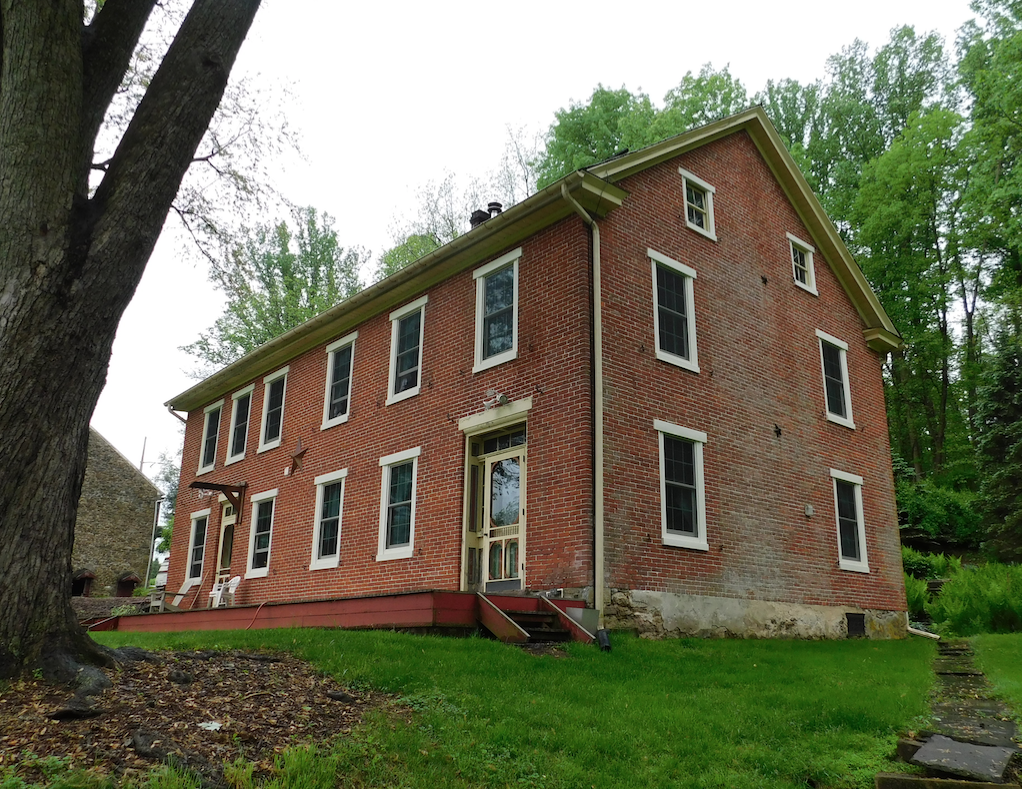 Jerry grew up two blocks from the Farmstead and always admired it. In the early 1980s, it went up for sale and eventually fell into near disrepair. Jerry knew that the property could return to greatness once again with some work to save it.
When we mention responsibility, Jerry and Joanne became guardians and stewards of the Farmstead in every definition of the words.
As Jerry's brother-in-law carried his golf clubs into the house on move-in day, he prophetically commented, "Well Jerry, these are something you won't need; you have your hands full here." No truer statement could have been made. It was and continues to be a 24/7 job, but thankfully, Jerry is a talented handyman and has enjoyed taking on all of the challenges throughout the years.
Once the barn was restored, historic organizations began including the Farmstead on barn tours. It was during one such visit that a barn expert recommended that the Holums have the property listed on the National Register of Historic Places.
To be deemed eligible for this designation, there is a long, detailed process of submission, but Jerry had never shied away from hard work to recognize the property's glory, so he was willing to put in the time and effort to have the John Wagner and Family Farmstead listed.
Its official listing on the National Register of Historic Places is a culmination of Jerry and Joanne's stewardship and care of the property, and it is a celebration of our country's agricultural history.
"The first time I saw this barn, I was blown away! As the past president of statewide and national barn preservation organizations, I have been to hundreds of barns, and when I think of quintessential Pennsylvania barns with great presence, proportions and ornamentation, this barn rises to the top of the list," said Jeff Marshall, President of Heritage Conservancy. "Heritage Conservancy is pleased to have played a part in its well-deserved recognition."
"I felt like I almost had a duty to have the Farmstead listed because of its many qualities of workmanship and history, the centerpiece being the barn. This chance for a listing would have passed if I had not made the effort. The Wagner Farm would have been forgotten in time," said Jerry Holum. "I think Jacob and John Wagner can now be assured that their farm has been recognized, heralded, saluted and memorialized."
We couldn't agree more.
To learn more about Heritage Conservancy's historic preservation services, click HERE.