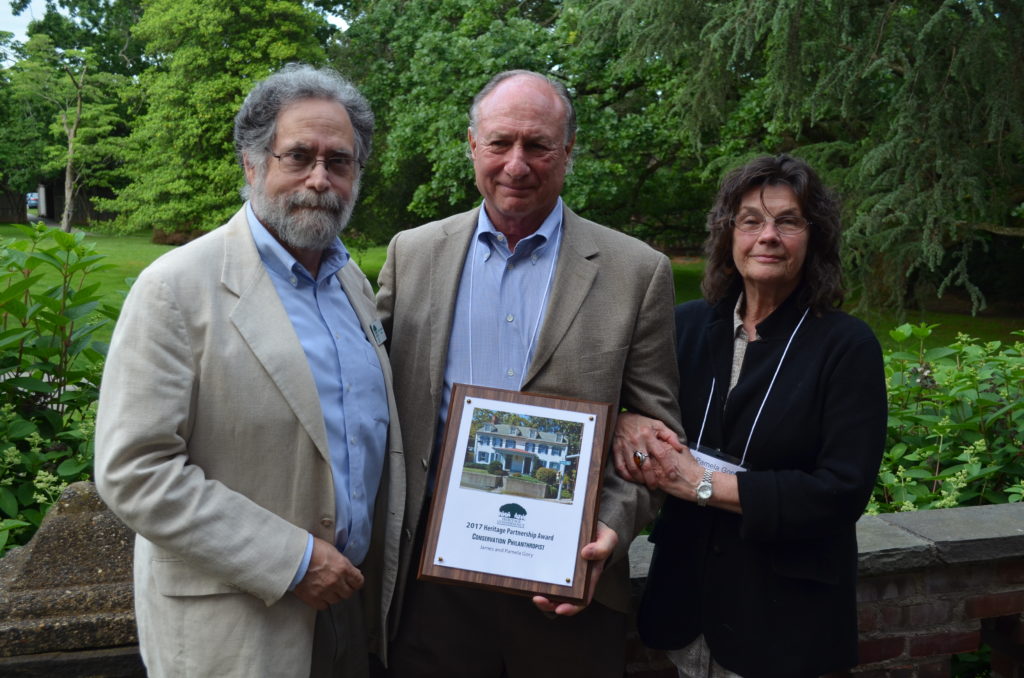 Event also celebrated organization's members and donors
Heritage Conservancy, an accredited not-for-profit land conservation organization that is dedicated to preserving and protecting our natural and historic heritage, hosted its annual member appreciation and donor recognition event on the evening of Wednesday, June 7th, at historic Aldie Mansion in Doylestown, PA. The Conservancy welcomed a record-breaking crowd to its annual Garden Party, with over 240 of the organization's valued members, business members, and Board of Directors in attendance.
The celebrated guests were invited to enjoy a lovely cocktail reception outside on the terrace overlooking Aldie Mansion's beautiful gardens and landscaping. For the scheduled part of the evening, the Conservancy also handed out its coveted Heritage Partnership Awards to individuals and groups who have shown extraordinary commitment to conservation of our natural and historic heritage.
The Community Business Leader of the Year Award was given to Jamie Hollander Catering & Events of New Hope, PA. Since 2010, Jamie Hollander Catering & Events has partnered with us at our annual Farm to Table to provide attendees with a locally-sourced meal. They have served as Business Leaders of ours since 2013. They also lead an annual mushroom identification hike on our preserved properties to educate attendees about mushrooms and their necessary place in the ecosystem.
"It's not just about what Jamie Hollander Catering & Events does for Heritage Conservancy but what their actions mean for your community overall. Their work with nonprofits throughout the region is simply driven by their desire to be a part of protecting and enhancing the quality life for all of us," said Katie Paone, Manager of Development at Heritage Conservancy.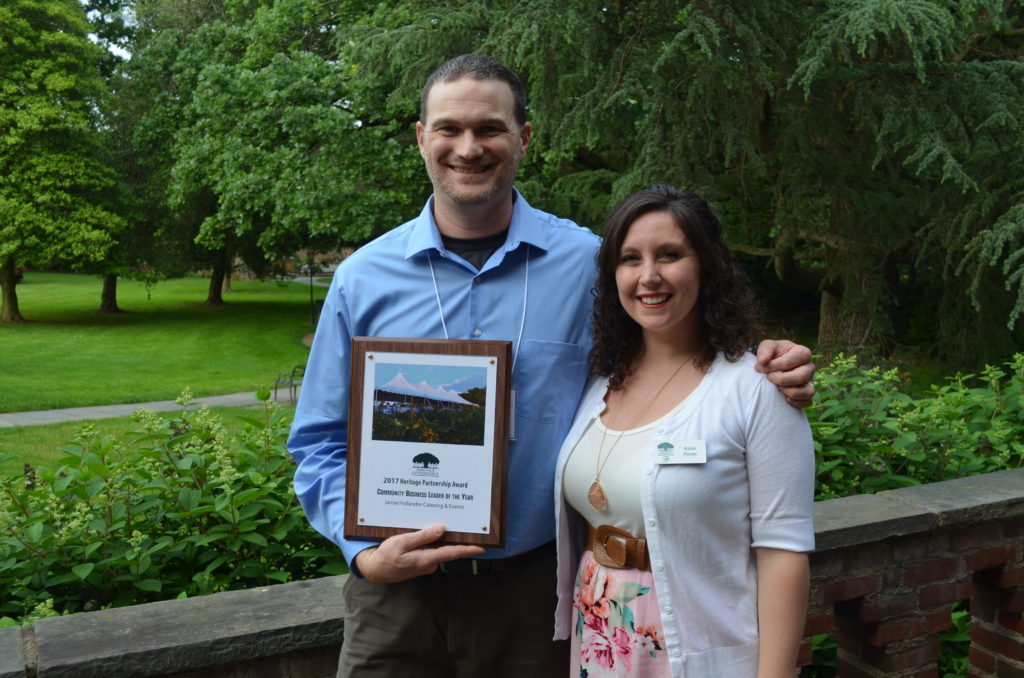 The Conservation Philanthropist Award was given to James and Pamela Gory. The Gory family's donation to Heritage Conservancy of their property on York Road in Buckingham Township highlights the historic preservation component of our mission—this house has a façade easement on it, which protects its historical exterior. The property was donated to Heritage Conservancy so that its resale will generate funding to help further our efforts to preserve our natural and historic resources in this region.
"This is a non-profit's dream that the Gorys brought to reality. They wanted to be able to drive past places that they knew were insurmountable in preserving. What more can we leave as a legacy to our children and our grandchildren? Thanking them isn't enough; we are humbled by the expression of commitment that the Gorys have made to our mission by donating their property to us," said Jeff Marshall, President of Heritage Conservancy.
The Land Conservation Award was given to Terry W. Clemons. Terry is the proud founder of the law firm of Clemons Richter & Reiss. With his municipal clients, Terry works creatively to preserve farm land and open space. Terry also represents private property owners concerning preservation matters, including the sale of conservation easements to Bucks County and other municipal entities as well as securing charitable deductions for contributions of open space interests in real estate. Terry's dedication to the cause of land conservation has resulted in the preservation of nearly 9,000 acres in Bucks County.
"To know that you play a part in preserving what is vital to the character of Bucks County, something that defines what Bucks County is, is a reward beyond compare. People like me, and organizations like Heritage Conservancy, we facilitate the efforts to preserve land. Township supervisors, volunteers and landowners are the lifeblood of those preservation efforts. I'm proud to be a part of that team that makes it all happen," said Terry while accepting his award.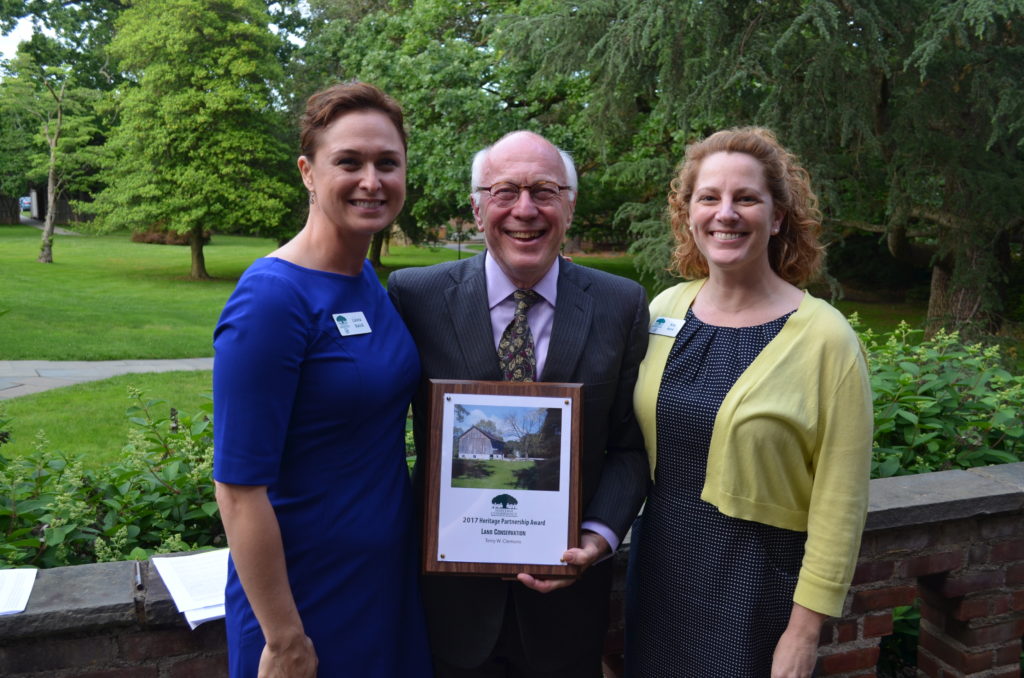 The Community Leadership Award was given to Delaware Valley University's Project Earth. This volunteer group has supported our mission through their work on property stewardship projects with us. Beyond their involvement as volunteers with us at Heritage Conservancy, they work with other local organizations, including the Bucks County Audubon Society. Additionally, they are making a movement toward greater sustainability and recycling options on campus.
"These students are dedicated ambassadors of our conversation mission on campus and in the community. Their passion and enthusiasm is truly inspiring. They embody the future stewards of the land and are the next generation of environmental conservationists for our community and for our earth," said Shannon Fredebaugh, Heritage Conservancy's Senior Community Engagement Associate.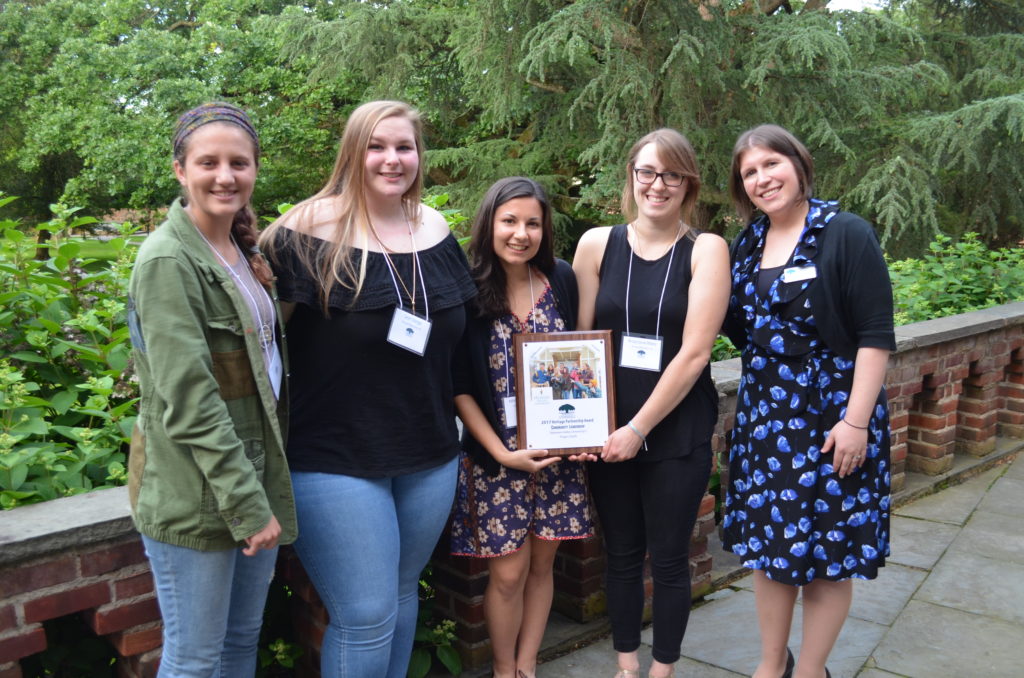 After the awards were presented, Heritage Conservancy's Members Photo Contest winners were also recognized with certificates for their winning photos that highlight the beauty of Bucks and Montgomery Counties. Their photos will be included in our 2018 calendar, which will be available at the end of September.
Heritage Conservancy's Garden Party was filled with compassionate and enthusiastic people who continue to make a significant impact for conservation and the environment through their support.
Jeff Marshall summed it up succinctly when he told the group, "You are the biggest assets of our organization."
We were happy to have this opportunity to show appreciation for our supporters who bring our mission to life!
To view more photos from the event, click HERE.