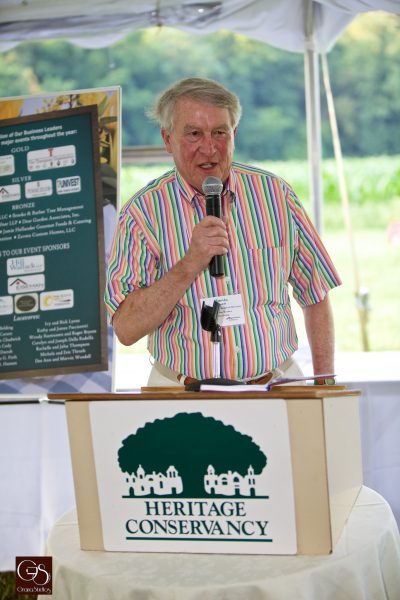 On June 9th, Heritage Conservancy's Board of Directors Nominating Committee nominated our newest Chairman Emeritus, Marv Woodall. Emeritus status is a mark of distinguished service, awarded to only a few, and is designated to a retired individual who has made a difference through their work. Board Member Jeffrey Nicholas presented this status to Marv and stated, "It's very clear that this word represents you to a T at this organization." We could not have said it better ourselves.
Marv Woodall joined Heritage Conservancy in 1993, serving twenty-five years on the Board of Directors and spending three of those years as Chairman. He has certainly fulfilled and gone beyond the requirements for becoming Chairman Emeritus. Marv served as Chairman of the Board for the organization at a pivotal time and brought it through a period of transition to one of prosperity and solid footing. In response to this honor, Marv wrote, "I shall always cherish the years of learning about the vital impact of this organization on our quality of life here in Bucks County and elsewhere in this region." We are extremely grateful for all of the hard work that Marv has contributed over the years and look forward to seeing what the future holds.
With a unanimous vote, we are extremely excited to call Marv Woodall our newest Chairman Emeritus!