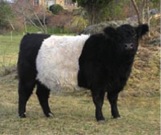 A Study Linking Land Preservation and Animal Conservation
In May of 2011, The 1772 Foundation funded a study to be completed by Heritage Conservancy that would determine the feasibility of creating a heritage breed livestock operation on a plot of Heritage Conservancy preserved agricultural land. As a result of the study, Heritage Conservancy developed a working financial model and agricultural decision-making tool that can be adapted to fit the parameters of any potential livestock-based project. Based on the results of models developed, it appears financially feasible to undertake a project that would establish a pasture-based, heritage breed animal farm project on preserved agricultural land.
In January, 2010, the Delaware Valley Regional Planning Commission (DVRPC) released the Greater Philadelphia Food Systems Study. The DVRPC is the planning organization responsible for the nine-county Greater Philadelphia region, and this study was the first stage in its efforts to envision a more sustainable food system for this region. In it, the DVRPC exhaustively details the issues and trends facing the region's food system in a 100-mile radius around Center City Philadelphia. The study paints a clear picture for the need to produce more local foods thus creating a generally more sustainable food system. (Delaware Valley Regional Planning Commission, 2010)
As a leader in the land trust community, Heritage Conservancy recognizes the opportunity to play an active part in the creation of this more sustainable food system. Sustainable agriculture (through family farming) is one area where Heritage Conservancy sees opportunity for the land trust community to not only become involved in the creation of more sustainable food systems, but also to improve land stewardship practices and increase revenue generation for both the land trust and the family farmer.
This feasibility study looked at what it is in the best interest of the land, the landowner, the farmer and the community to use preserved agricultural land to establish and promote the existence of a holistic family farm. To this end, Heritage Conservancy is interested in continuing to research the potential creation of a heritage breeds pasturing program for implementation on preserved farmland while simultaneously establishing a local family farm. If feasible, a project like this would fit directly into Heritage Conservancy's mission of conservation, preservation and land stewardship.
To obtain a copy of the complete feasibility study, please contact Sandy at (215)-345-7020, ext. 103 or syerger@heritageconservancy.org