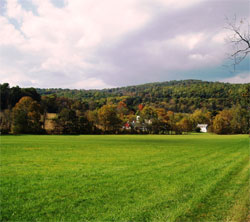 Dear friends and supporters,
Pennsylvania Governor Corbett's proposed 2012-13 budget eliminates ALL conservation, park and recreation funding from the Keystone Recreation, Park and Conservation Fund. What's worse, the budget goes on to propose that the termination of funding be permanent. This means a loss of $30M for conservation in 2012-13 and far more in the long-run. This is the largest cut to conservation funding ever proposed in the state of Pennsylvania.
It is the beautifully natural and sprawling open spaces that help create a "sense of place" and belonging here in Pennsylvania. Heritage Conservancy and organizations like us make it our priority to protect these open spaces so that they are there for future generations to experience and enjoy. If this funding gets cut forever, who knows what the future will look like?
The total elimination of land conservation programs is a shortsighted, band-aid approach. The future costs of maintaining clean air, clean water, and safe, locally grown food will far outstrip the short-term benefits to the state budget.
Governor Corbett's budget is still a proposal. While we certainly realize the significant economic crisis we face, and recognize that other important programs are being cut back, the Keystone Recreation, Park and Conservation Fund is being permanently eliminated.
The budget would also redirect funds from the Farmland Preservation Program, which was established in 1988 to curb the conversion of prime farmland to non-agricultural uses and the loss of productive farm soils. Instead of preserving prime farmland, the new budget would redirect $20.485 million to 'general government operations.'
The Keystone Recreation, Park and Conservation Fund and the Farmland Preservation Program are Pennsylvania's only funding sources that direct money specifically to community park and recreation grants and agricultural land preservation grants. We simply can't afford to lose them.
Thank you,
Jeffrey Marshall
President of Heritage Conservancy