Each spring and fall, Heritage Conservancy volunteers take to the streets to save these cold-blooded critters. During certain rainstorms, amphibians migrate to their breeding grounds. However, roads often intersect these journeys, leading to unfortunate casualties.
At two locations in Bucks County, Heritage Conservancy volunteers go out at night, often in a downpour, to help these vulnerable amphibians. The volunteers safely cross the frogs and salamanders in the direction they were heading as they tally each species. This provides population data while also determining how many did not cross successfully. Unfortunately, over 120 amphibians died during their migration to or from their breeding grounds this season.
However, with the help of Heritage Conservancy volunteers, 734 amphibians did successfully cross during the tenth year of the amphibian crossing program. We want to send a special thank you to the 20 individuals who donated their time to help save these vulnerable critters; this conservation effort would not be possible without you!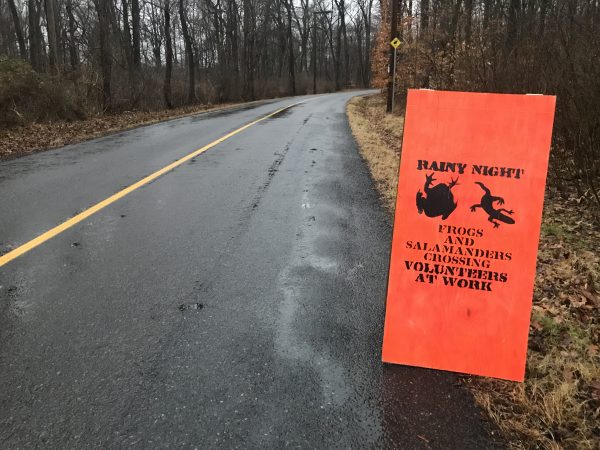 Heritage Conservancy continues to protect important habitats from development, including wetlands that are vital to our local amphibian populations. If you are interested in joining our amphibian crossing program, feel free to contact Tyler Kovacs at tkovacs@heritageconservancy.org.
Tyler Kovacs, Conservation Steward.